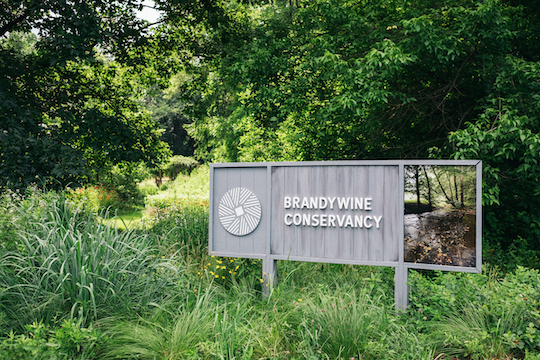 The Brandywine Conservancy & Museum of Art achieved renewal of its accreditation from the Land Trust Accreditation Commission, an independent program of the Land Trust Alliance. The prestigious land trust accreditation program recognizes land conservation organizations that meet national high-quality standards for protecting important natural places and working lands forever.
Since 1967, the Brandywine Conservancy & Museum of Art has been a leader in protecting and conserving the land, water, natural and cultural resources in southeastern Pennsylvania and northern Delaware—with over 66,000 acres of open space permanently protected to date. It was also one of the first conservation organizations to be awarded accreditation by the Land Trust Accreditation Commission in 2008. Since then, the Brandywine Conservancy has successfully completed the rigorous accreditation renewal process twice, maintaining its accreditation status for over a decade.
"We are thrilled to have received our accreditation renewal through the Land Trust Accreditation Commission," commented Executive Director Virginia A. Logan. "This award is an affirmation of our commitment to excellence in all aspects of our innovative conservation work and serves as a guiding framework for maintaining the highest national standards that the Brandywine has consistently maintained over the years."
The Land Trust Accreditation Commission conducts an extensive review of each applicant's policies and programs every five years. During the renewal process, the Brandywine provided extensive documentation and was subject to a comprehensive third-party evaluation prior to achieving this distinction. The process also allowed Brandywine staff the opportunity to review and revise its current organizational policies and standards to ensure it was continuing to meet and exceed the highest accreditation standards set forth by the Land Trust Alliance. As a result of these efforts, the Land Trust Accreditation Commission awarded renewal accreditation, signing its confidence in the Brandywine Conservancy & Museum of Art's capability to protect land and steward its easements in perpetuity.
"This accreditation renewal acknowledges our past work and ensures that the Brandywine continues to hold itself to the highest professional standards in the land trust field now and in the future," said Ellen Ferretti, the conservancy director. "It provides confidence to our landowners, constituents, members and donors that this organization can and will responsibly fulfill the promise of preserving and stewarding natural resources for generations to come."
"The Brandywine Conservancy & Museum of Art is a conservation leader in our state, working effectively and efficiently to conserve land, protect water and connect people to the outdoors throughout southeastern Pennsylvania," said Andrew Loza, Pennsylvania Land Trust Association executive director. "The Pennsylvania Land Trust Association congratulates the Brandywine Conservancy on achieving accreditation renewal and looks forward to helping Brandywine continue its excellent conservation efforts in the future."
"It is exciting to recognize the Brandywine Conservancy & Museum of Art's continued commitment to national standards by renewing this national mark of distinction," remarked Tammara Van Ryn, executive director of the commission. "Donors and partners can trust the more than 400 accredited land trusts across the country are united behind strong standards and have demonstrated sound finances, ethical conduct, responsible governance, and lasting stewardship.
The Brandywine Conservancy & Museum of Art is one of 1,363 land trusts across the United States according to the Land Trust Alliance's most recent National Land Trust Census. A complete list of accredited land trusts and more information about the process and benefits can be found at www.landtrustaccreditation.org.

See Contributors Page https://chaddsfordlive.com/writers/
Comments
comments