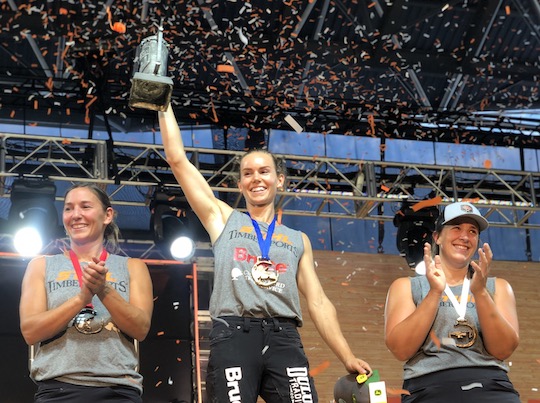 Lumberjack competitions are the tops for Chadds Ford's Martha King and she came out on top of a national competition this weekend in Milwaukee, Wisc. She took first place in the Stihl Timber Sports National Championship.
King, 30, has a Bachelor of Science degree in animal sciences, with minors in wildlife and fisheries science and forest science, but spends most of her time competing. She does about 20 competitions per year, she said, and has competed in Europe and Australia, as well as in the United States.
This was only the third year for the Stihl competition, but King has been in all three and improved each time. She came in third the first year, second in year two and now first in year three. She loves the life.
"I love traveling and chopping," she said, though there is a serious side. "I feel like I'm living out the American dream. I'm doing what I love and I'm getting paid to do it. And I have a great platform for other people to be an example, to inspire and encourage."
She added that the chopping keeps her fit and that she gets to travel and interact with a lot of different people. King, who speaks German, worked on a pig farm in Germany a few years ago and coached at a training camp in the Netherlands.
"There were some German participants and to be able to speak with them in German, and to visit friends in Germany, it was just surreal. … To be able to communicate in  foreign land it opens so many doors."
King comes to being around timber naturally. Her family owns and operates Chadds Ford Tree Service and her father, Rob King, also competed in timber sports when he was a student at Penn State.
Her woodchopping career began in 2007 at the Mont Alto campus of The Pennsylvania State University, she said, adding, "I was very successful in my two years of competition there, winning nearly every event I was entered in and winning the MVP award in 2009. Despite my success, I didn't realize there was room for growth into the professional realm."
Being a woman in a male-dominated sport drove her.
"The realization that there was indeed opportunity out there for women to be professionals in this sport made me determined to become one of the very best. It was frustrating to me to hear that I didn't belong because I was female. Others insinuated I was only husband hunting. This only encouraged me to be all the more dedicated to prove that I belong out there in the arena. Now, even some of the really old school guys — those who have long been against women chopping — come up to me to say that they are impressed with my ability and they enjoy watching me compete."

Rich Schwartzman has been reporting on events in the greater Chadds Ford area since September 2001 when he became the founding editor of The Chadds Ford Post. In April 2009 he became managing editor of ChaddsFordLive. He is also an award-winning photographer.
Comments
comments