• The 48th annual Antiques Show at the Brandywine River Museum of Art is this Saturday to Monday, May 25-27. On Saturday, the Antiques Show Breakfast and Lecture features Douglas Allen — artist, collector and author — who will speak about assembling his impressive and interesting collection of N. C. Wyeth ephemera over seven decades. A portion of his collection will be on display at the Brandywine through Sept. 8. On Sunday, May 26 and Monday, May 27, from 10:30 a.m. until 1:30 p.m., a selection of 30-minute booth talks will be offered by the expert dealers.
• There will be a Memorial Day ceremony at the Brandywine Baptist Church cemetery on Monday, May 27 beginning at 8:30 a.m.
• PennDOT announced that all driver license and photo centers, including its full-service center in Harrisburg, will be closed Saturday, May 25, through Monday, May 27, in observance of Memorial Day. Customers may still obtain a variety of driver and vehicle products and services, including all forms, publications and driver training manuals, online through PennDOT's Driver and Vehicle Services website, www.dmv.pa.gov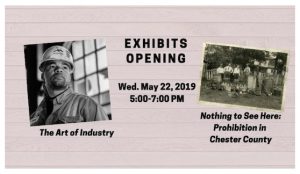 • Now through Aug. 3, The Chester County Historical Society presents The Art of Industry, which features the traveling photography exhibit "I Am Coatesville Steel" sponsored by the Stewart Huston Charitable Trust and the National Iron and Steel Heritage Museum. Photos and an oral history video document the stories of Lukens Steelworkers. And you can meet the artists. Also, in the show from the CCHS museum collection are rarely exhibited sculptures by Doris Sams of wooden molds from local industries. Additionally, through Jan. 4, the society exhibits Nothing to See Here: Prohibition in Chester County. Learn about prohibition in Chester County on the 100th anniversary of the 18th amendment. The exhibit includes materials from the CCHS library, Chester County Archives and several loans from the community.
• Chadds Ford Live's contributor Lora Engelhardt earned second place in the PA Press Association contest for an article on First Troop Philadelphia City Cavalry for the Hunt magazine and also received honorable mention for her article on The Paintings of George W. Weymouth (also the Hunt).
• The annual Delaware County High School All-Star Hero Bowl football game is Thursday, May 30 at Cardinal O'Hara High School on Sproul Road in Springfield Township. Proceeds from the game support the county's Hero Scholarship Fund that provides educational scholarships to the children of county police officers and firefighters who died in the line of duty. Tickets are $5 at the gate. Game time is 7:30 p.m., pregame festivities start at 7. The bowl game teams represent more than 90 players selected by the Delaware County Football Coaches Association.

See Contributors Page http://chaddsfordlive.com/writers/
Comments
comments