Southern Chester County Regional Police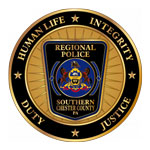 • Nelson Lopez-Aguilar, 22, of Toughkenamon, was arrested and charged with DUI and related traffic offenses, as well as with giving false identification to law enforcement, a report said. The incident happened in the 100 block of Bancroft Road in New Garden Township on March 30, after police observed his vehicle swerve across the center and fog lines and nearly strike two telephone poles. Police said they noticed signs of intoxication and a chemical test showed a blood alcohol level of 0.186 percent. Once processed, police learned that he was wanted on an outstanding warrant. He was subsequently turned over to constables, the report said.
• Police said Mikhail M. Lebron, 28, of West Chester, was arrested and charged with violations of the Controlled Substance, Drug, Device, and Cosmetic Act (Act 64), along with a traffic offense, after he was found to be in possession of marijuana and related paraphernalia, following a traffic stop for a stop sign violation. The incident occurred on March 29  at Oakland and Rosehill Avenues, in West Grove Borough. Lebron was taken into custody, processed, and released pending issuance of a summons.
• Lauren R. Guasperini, 30, of Morton, is wanted in connection with the theft and unauthorized use of a Lowes credit card, police said in a report. The card was stolen from a residence in the 200 block of Penn Green Road, in New Garden Township. It was then used to make fraudulent purchases in the amount of $1,569.31, at Lowes stores in both Pennsylvania and Delaware on five occasions in September of 2018. Charges were filed and an arrest warrant was issued on March 29.
• Residents are reminded that it is a violation of the Pennsylvania Crimes Code to discard a refrigerator or icebox, with a capacity of 1.5 cubic feet or more, with the door or lid still attached, in any place that is accessible to children. The SCCRPD has investigated four violations of this law in recent weeks. With warmer weather upon us, more children will be playing outside and these appliances can make tempting hiding spots. We ask for your cooperation and compliance so that tragedy can be avoided. Remove doors and lids if setting these or any large appliance outside and contact your municipality or waste management provider for prompt pickup.

See Contributors Page https://chaddsfordlive.com/writers/
Comments
comments