Purses Full of Hope and Avenue Kitchen in Concord Township are teaming up to celebrate women and offer hope to women in need in honor of International Women's Day on March 8.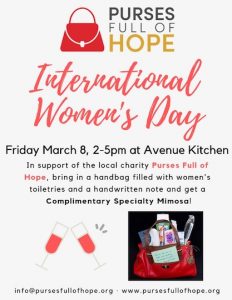 On this coming Friday, Purses Full of Hope will be collecting gently used purses filled with toiletries and a personal message of hope to be delivered to women at local shelters. The collection will be held from 2 to 5 p.m. at Avenue Kitchen (509 Wilmington Pike, Glen Mills.) A complimentary specialty mimosa will be given to each person who donates a purse.
Purses Full of Hope is a collaboration of passionate women who strive to give love and support to women seeking safety and shelter by delivering purses filled with toiletries and a personal message of hope to local shelters. The women they reach have suffered from domestic violence, homelessness, poverty and other difficult circumstances.
This year's theme for International Women's Day is "Balance for Better," with a focus on a continuous collective action to create a better world.
"International Women's Day is the perfect day to both celebrate women and help and empower women in need. The women who receive our donations often flee their homes with little to no belongings and are not only in need of various personal hygiene products but of something that can empower them and remind them of their resilience when they arrive at a shelter," said Kyra Miller, co-founder and president of Purses Full of Hope.
The Purses Full of Hope team collects gently used purses from individuals, groups and businesses across the region. Purses Full of Hope began in 2015 with a little over 100 donations from the Delaware County area and expanded into South Jersey and Philadelphia and beyond. To date, more than 4,000 purses have been collected.
Suggested items include shampoo, conditioner, body wash, perfume, tampons, pads, body lotion, feminine wipes, makeup, nail polish, chapstick, a first aid kit, pencils and pens, an adult coloring book, an inspirational book and a journal. The purse must also include a handwritten note to the woman who will receive the donation. This note is important, as it gives the woman receiving the purse love, guidance and a little hope. The note is also an opportunity to personalize the experience, woman to woman. Please fill the bags will full-size essential items such as shampoo and body wash. Please, no empty purses.
"Grab a girlfriend, your mom, daughter or sister and join our Purses Full of Hope sisterhood on March 8," said Miller. "Donate a purse and enjoy a free mimosa and learn more about our team. This is our way of balancing the world and giving back on International Women's Day and we hope you join us!"
More information on Purses Full of Hope, including their mission and how to be a "Hope Angel" and hold your own purse drive can be found here.
Those interested in holding a drive can email Purse Full of Hope for more details: info@pursesfullofhope.org

Comments
comments