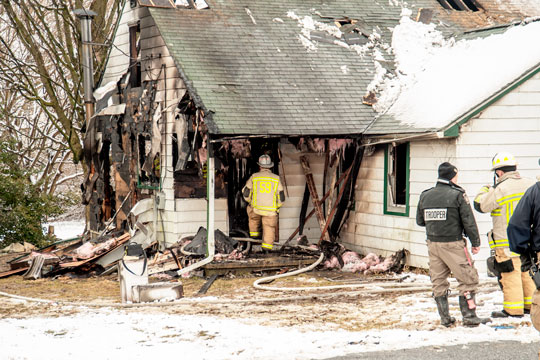 UPDATE BELOW
The cause of a Friday morning fire on Marshall Road in Chadds Ford Township is under investigation. The blaze was in a white building at 2 Marshall Road, across from David Dodge on the corner of Marshall and Route 202.
While neither the Concordville Fire Co. nor state police have released any information other than to say the call was received at 11:24 a.m., the fire seemed to be extinguished by 11:40 a.m.
The right northbound lane of Route 202 was closed to traffic.
The story will be updated as more information becomes available.
Update: Fire Chief Tom Nelling, of Concordville Fire Co., said the fire broke out at 9:49 a.m. and was under control by 10:42 a.m. The building was an old house used for storage by David Dodge. The fire started in the kitchen area. No one lived in the building and there were no injuries, Nelling said, adding that the cause is as yet unknown.

Rich Schwartzman has been reporting on events in the greater Chadds Ford area since September 2001 when he became the founding editor of The Chadds Ford Post. In April 2009 he became managing editor of ChaddsFordLive. He is also an award-winning photographer.
Comments
comments