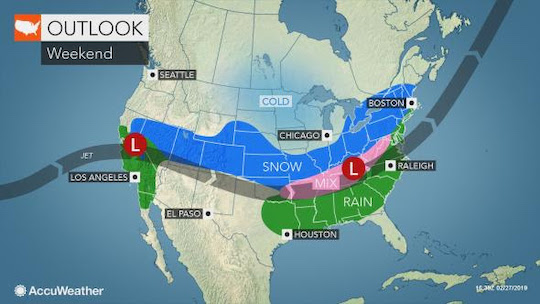 From tonight and into Monday, winter is still doing its thing with a mix of snow and rain, according to both the National Weather Service and AccuWeather.
The National Weather Service is calling for a possible snow fall of 1-2 inches during the overnight hours between 1 and 4 a.m. Friday. That snow is expected to change to rain with possible freezing rain.
AccuWeather is predicting heavier precipitation Sunday into Monday. That storm could bring more snow, rain and ice into the northeast. Pennsylvania is within the snow band. Up to 6 inches of snow could accumulate depending on how the storm tracks.
"Regardless of the storm track," AccuWeather is saying, "the cold blast that follows will bring a new round of discomfort to the Northeast." Gusts between 30 and 45 mph are predicted in the Northeast. Blustery conditions are expected for several days but should abate by the second week of March, AccuWeather is predicting.

See Contributors Page https://chaddsfordlive.com/writers/
Comments
comments