Pennsylvania State Police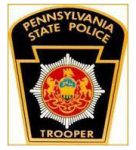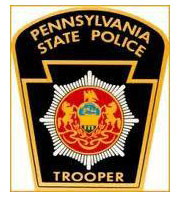 • Police said Jeremiah D. Timmins, 27, of Downingtown, was cited for excessive speed after the 2000 Chevrolet Blazer he was driving left the road as he was trying to negotiate a left-hand curve on Doe Run Road near Covered Bridge Road in West Marlborough Township on Dec. 13. The incident happened shortly before 5 p.m. After failing to negotiate the curve, police said he crossed the white fog line and onto the shoulder of the road. The tires went into the berm and Timmins overcorrected, crossed the double line and then hit a ditch on the wrong side of the road, the report said. The Blazer then bounced back onto the roadway and rolled onto its side. No injuries were reported.
• Regina Patricia Dezio, 62, of Kennett Square , has been accused of stealing from the Walmart in East Marlborough Township. Police said she was confronted by the store's Loss Prevention Unit as she tried to leave the store with several unpaid items. According to the report, this was the fourth retail theft charge brought against Dezio. The incident happened on Jan. 31.
• A 19-year-old from Lincoln University was charged with careless driving after striking another vehicle from behind on Route 1 in East Marlborough  Township on Jan. 17. Police identified the driver as Oscar Rico.
• Someone forcibly opened a parked work vehicle and stole multiple tools. The vehicle was parked on Route 1 in Pennsbury Township. The theft happened sometime between 4 p.m., Jan. 28 and 7 a.m., Jan. 30.
Southern Chester County Regional Police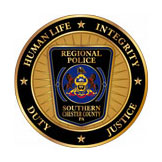 • Carter B. Gray, 44, of Landenberg, was arrested and charged with terroristic threats, simple assault, and possessing instruments of crime, following a physical assault, during which he allegedly pointed a shotgun at the victim and made verbal threats, according to a police report. The incident occurred Jan. 18 at 11 p.m., on Buttonwood Road in New Garden Township. Police said Gray corroborated the victim's account of events when he was questioned later. Gray was taken into custody and two shotguns were seized. Gray was processed and held for arraignment at Central Booking, after which he was released on $50,000 cash bail.
• Police said Lizet V. Hernandez-Gardun, 19, of West Grove, was arrested and charged with DUI and related traffic offenses, after police responded to a report of an erratic driver and located her vehicle on Jan.24 on Gap Newport Pike at Penn Green Road, in New Garden Township. When police initiated a traffic stop, Hernandez-Gardun pulled to the shoulder and rear-ended a vehicle in front of her that had stopped as well, the report said. Police said they observed indicators suggesting intoxication and field sobriety tests confirmed impairment. She was taken into custody for suspicion of DUI and submitted to a chemical test of her breath, resulting in a blood alcohol level of 0.184 percent, the report said.
• Christopher Cerrato, 18, of Oxford, was arrested and charged with possession with intent to deliver a controlled substance and related Act 64 offenses, as well as with fleeing or attempting to elude police, resisting arrest or other law enforcement, accidents involving damage to unattended vehicle or property, recklessly endangering another person, tampering with or fabricating physical evidence, DUI (Controlled Substances) and numerous related traffic offenses, and disorderly conduct. The incident occurred on Jan. 23 at 9:41 p.m., at Newark Road and West Baltimore Pike, in New Garden Township. Police said they observed a 2007 Toyota turn in front of an oncoming vehicle and nearly cause an accident. Police attempted to catch up to the vehicle but it accelerated to a high rate of speed and ignored audible and visual warning signals from the pursuing police vehicle. The operator lost control of the vehicle, as it approached the intersection of West Baltimore Pike and Thompson Road. The vehicle left the roadway, hit a curb, and then collided with an unoccupied, parked car in the lot of the Sunoco A-Plus. The operator and front seat passenger exited the vehicle and fled the scene on foot, according to the report. Police gave chase and apprehended the driver, identified as Cerrato, in a wooded area several hundred yards from the crash. He exhibited indicators suggesting intoxication, including having a white powdery substance in and around his nose. Field sobriety tests were administered and confirmed impairment. Cerrato was given an opportunity to submit to a chemical test of his blood but refused. Police said a search of his vehicle produced suspected cocaine, individually packaged baggies of marijuana, U.S. currency, and related contraband. While seated in the rear of the patrol car, Cerrato slipped a hand free of the handcuffs. When police removed him to re-secure his hands, they recovered additional baggies of suspected cocaine. Cerrato was processed and was transported to Central Booking to be held for arraignment, after which he was committed to the Chester County Prison in lieu of posting $50,000.00 bail.
• Police said they charged Michael A. Shipman, 26, of Downingtown, with DUI (controlled substances) and a related traffic offense, in connection with a traffic fatality that occurred when a temporary employee (Clarence Lennard) fell from the back of an A.J. Blosenski garbage truck that was being operated by Shipman. The incident occurred on 11/13/2018, in the 200 block of Pemberton Road, in New Garden Township. Shipman told police that he had driven towards the right shoulder to give room to an oncoming vehicle, when the passenger side tires dropped off the edge of the roadway. Shipman regained control of the vehicle but discovered that the victim had fallen off. Further investigation revealed that the victim likely collided with a utility pole and was pinned between the garbage truck and the pole. Lennard was transported to Christiana Hospital where he later succumbed to his injuries. Pursuant to company policy, Shipman submitted to a drug and alcohol screen and the results of same revealed the presence of marijuana (THC) in his system.
• Dane R. Gill, 33, of Oxford, was arrested and charged with a violation of the Controlled Substance, Drug, Device, and Cosmetic Act (Act 64) after he was taken into custody on an outstanding bench warrant and was found to be in possession of a methamphetamine pipe. The incident occurred on Jan. 22 at 12:30 am, in the 9000 block of Gap Newport Pike, in New Garden Township. Gill was turned over to constables.

See Contributors Page https://chaddsfordlive.com/writers/
Comments
comments