Pennsylvania State Police
• A 37-year-old woman from Concord Township told police that someone tried to defraud her of hundreds of dollars. According to the state police report, the woman said she was sent an email from someone she believed to be a priest from the church where she works. The email instructed her to buy $300 worth of iTunes gift cards for a hospitalized friend. She bought the cards and emailed the information in a reply to the request. However, police said, she was then asked to buy an additional $600 worth of the cards. At that point, she realized she was not emailing with the priest. She then contacted Apple and had the cards invalidated.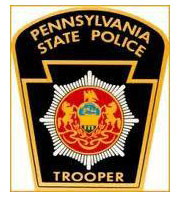 • Police said they cited a 17-year-old for speeding following a Jan. 8 one-vehicle accident on Featherbed Lane in Concord Township. The Mitsubishi Lancer the youth was driving spun out of control after the driver applied the brakes while negotiating a left-hand curve.
• Police are investigating the theft of a Samsung Galaxy S9 — valued at $915 — and a Samsung Galaxy Note 9 — valued at $1,200 — from the AT&T store on Route 202 in Concord Township on Jan. 11. The incident happened at 3:15 p.m.
• Police said someone stole the wallet of an employee at Domino's Pizza on Brinton Lake Road. The incident happened at 8:13 p.m. on Jan. 14. Police described the suspect as a white man, 30-40 years old with blond hair, a beard, tan boots and weighing 250-275 pounds. The suspect also had a large black, long-haired dog that sat in a booth with him and ate from the table.
• State police from the Avondale barracks are reporting a hit and run accident that took place in Pocopson Township on Dec. 17. The crash happened when the unknown motorist was driving north on S. Wawaset Road but crossed into the southbound lane and struck another vehicle. The driver who was struck was not injured., the report said.
• An unidentified 61-year-old Kennett Square woman was determined to be driving under the influence following a two-vehicle crash on Route 82 in West Marlborough Township on Jan. 19 at 8:08 p.m. No other information was released.
• Police said they took into custody Faye Margaret Carrigan, from Kennett Square, for theft. The report said only that Carrigan was seen taking merchandise and was later charged with retail theft and receiving stolen goods. The incident happened Dec. 17.
• A police report said Stephanie M. Nicolaides, 19, of Glen Mills, was arrested for possession of marijuana in Pocopson Township on Dec. 13. According to the report, she was stopped after committing several traffic violations. Nicolaides, the report said, was driving under the influence.
• An unidentified driver was cited for careless driving following an accident on E. Baltimore Pike in East Marlborough Township on Jan. 11. A police report said the offending driver rear-ended another vehicle that was stopped at a traffic light. The incident happened at 8:06 p.m.

See Contributors Page https://chaddsfordlive.com/writers/
Comments
comments