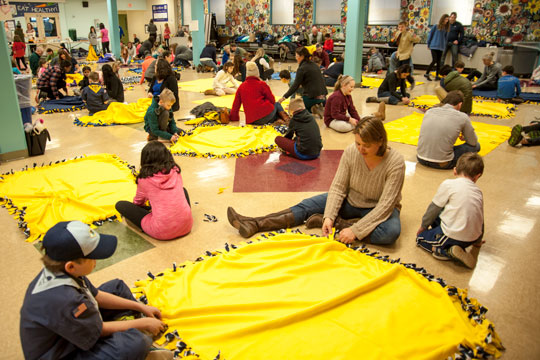 More than 200 people showed up at Unionville Elementary School his morning to make blankets for children at AI DuPont Children's Hospital in Delaware. It was part of the school district's Day of Service in honor of Martin Luther King.
According to school Principal Michelle Lafferty, the number of volunteers doubled over the weekend. Initially, there were fewer than 100 people who signed up to volunteer, but that changed when people heard how cold it was going to be.
This was the third year students at UES made the blankets, Lafferty said. She and a few others were to take the 80 blankets, along with hand made cards, to the hospital this afternoon where they will first be cleaned and sanitized before given to patients.
While UES has only been making the blankets for three years, Lafferty said they have already made an impact. She said she was sent a photo last year of two scared children at the hospital cuddling together under one of the blue and yellow blankets her students had made. She said the photo tugged at her heart.
In addition to making the blankets and cards, students also raised money that will be used to buy iTunes gift cards for older patients at the hospital. They will be distributed later in the year, she said, likely in June.

Rich Schwartzman has been reporting on events in the greater Chadds Ford area since September 2001 when he became the founding editor of The Chadds Ford Post. In April 2009 he became managing editor of ChaddsFordLive. He is also an award-winning photographer.
Comments
comments