Pennsylvania State Police
• Both drivers in a two-car crash were cited on Dec. 12 in Chadds Ford Township. A state police report identified the drivers as Tyler F. Dougherty, 28, of Glen Mills and Nehal S. Gandhi, 44, of Chadds Ford. The police report said Gandhi was making a left turn onto northbound Route 202 from Summit Drive. Dougherty was southbound on Route 202 using the center turn lane as a passing lane when he struck Gandhi's vehicle as she was making an unsafe lane change, according to the report.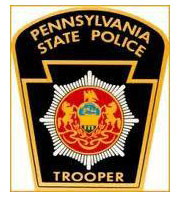 • Speed was determined to be the cause of a Dec. 21 one-car crash on Bethel Road in Concord Township. Police said Daniel L. Keenan, 50, of Garnet Valley was driving too fast for conditions and failed to negotiate a curve near Cobbler Lane. The vehicle hit an embankment and overturned onto the driver's side. Police suspected an injury to the driver but said Keenan refused transport.
• Police said they arrested Ashley Howard, 26, on retail theft charges. According to the report, members of the Loss Prevention Department at the Target store in Concord Township caught Howard trying to steal $1,765 worth of merchandise on Dec. 17.
• Two unknown suspects are being sought in connection with the theft of $1,500 worth of copper piping and wire spools from a construction site in the 1000 block of Bethel Road in Concord Township on Nov. 20.
• An unnamed driver was cited for following too closely after rear-ending another vehicle on Route 1 in East Marlborough Township on Dec. 17. The driver of a 2019 Hyundai Elantra failed to come to a complete stop while approaching the intersection at Village Drive and struck a 2012 Kia Sedona at 7:14 p.m. Police reported no injuries.
• State police from the Avondale barracks said Wilbert Reyes Jr., 26, of Toughkenamon, was arrested for DUI on Nov. 18 at 2:16 a.m. The arrest was made at the intersection of East Baltimore Pike and Lenape Road in Kennett Township. There were no other details reported.
• A domestic dispute in East Marlborough Township led to charges being filed against an Oxford couple. State police identified the pair as Donald Louis Courtney, 58, and Jennifer Lynn Courtney, 50. The incident took place 4:06 p.m. on Dec. 12 at the intersection off School House Road and E. Street Road.

See Contributors Page https://chaddsfordlive.com/writers/
Comments
comments