"Lend Me A Tenor," now playing at the Uptown! Knauer Performing Arts Centre in West Chester offers the perfect escape from holiday stress.
There are plenty of laughs and innocent fun in this classic production by the Resident Theatre Company at Uptown! It's reminiscent of the screwball comedies of the 1930s, where a simple mistaken identity can take on a life of its own and comes with the requisite happy ending — and a mad dash through the set — for those involved.
"Lend Me A Tenor" runs through Dec. 30. RTC Director Kristin McLaughlin Mitchell and the cast of Broadway and Philadelphia stage veterans create a play that is as delightful as it is captivating.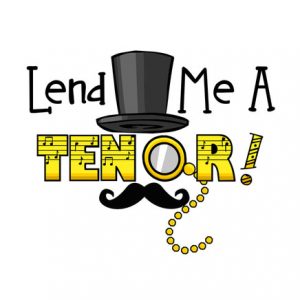 The entire play takes place in a two-room hotel room and centers around the arrival of famed Italian tenor Tito Merelli (Broadway veteran Bart Shatto). We're introduced first to Maggie (Hillary Wilson) as she sings along with one of Tito's songs. She is starstruck about meeting Tito — and she's not the only one. There's Diana (Katie Horner), the diva at the Cleveland Grand Opera House who has some great lines during the play; and Julia (Trina Tjersland), chairwoman of the Opera Guild, who also have their eye on the great "Il Stupendo."
Even the bellhop (Angel Sigala) can't wait to see Tito.
For Henry Saunders, Maggie's dad and the general manager of the opera company, Tito is performing in "Otello" in front of a sell-out crowd, and Henry doesn't want anything to go wrong. For Tito's fiery wife  Maria (Broadway veteran Laurie Wells), she doesn't like the attention he gets from women and is vocal about it.
Ultimately, it's up to Max (Woody White), a meek "nice guy" and harried assistant to Maggie's dad Saunders (Michael Yeshion), to keep an eye on Tito.
But what happens when Max and Henry think Tito is dead — after Max finds a "Dear Tito" letter from Maria and an empty prescription bottle — is what makes "Lend Me A Tenor" such a great comedy and so well-acted.
Shatto, who performed as Jean Valjean in "Les Miserables" on Broadway, is perfect as the easily-confused, heavily accented Tito. His facial expressions perfectly capture the essence of the character. During one scene when Diana, clad in lingerie, tells Tito she's a professional, he doesn't realize she's referring to her career as a singer. When she mentions her parents were in the business too — a scene that had the audience guffawing – the confused, partly horrified look on Shatto's face was perfect.
The audience is treated to the impressive vocals of both Shatto and White, as Tito encourages Max to sing.
White as Max perfectly plays the evolution of his character from meek — he doesn't really speak up when his sometimes-girlfriend Maggie declares she wants to have a fling with Tito — to a man confident in himself and his talents. White's credits include performances in New York, and he easily brings to life the character who impersonates Tito and performs in his stead.
Wells as Tito's wife Maria is fabulous. Her acting and singing credits include the Broadway/national touring productions of "Mamma Mia," "Swing," and "An American In Paris." She completely transformed herself into the character of Maria.
One of my favorite characters was Henry Saunders, played by Michael Yeshion. He and White, as Max, are hysterical as they try to convince everyone that Max is Tito. And the deadpan manner in which he delivers his lines – such as quipping that the supposedly deceased Tito not only sang like an angel but wanted to prove it – was fabulous.
Horner, Wilson, and Tjersland can count "Lend Me A Tenor" as their first shows with RTC. Horner was perfect as the sultry diva Diana, and Tjersland nailed it as Julia. Wilson as Maggie is like the heroine of the old movies – you root for her to end up with Max as she gets caught up in the madcap scheme.
RTC fans will enjoy seeing these three in future shows.
IF YOU GO
What: "Lend Me A Tenor" by the Resident Theatre Company
Where: Uptown! Knauer Performing Arts Center, 226 N. High St., West Chester
When: Now through Dec. 30
Phone: 610-356-ARTS
On the Web: uptownwestchester.org
www.rtcwc.org/lend-me-a-tenor.html

Monica Thompson Fragale is a freelance reporter who spent her life dreaming of being in the newspaper business. That dream came true after college when she started working at The Kennett Paper and, years later The Reporter newspaper in Lansdale and other dailies. She turned to non-profit work after her first daughter was born and spent the next 13 years in that field. But while you can take the girl out of journalism, you can't take journalism out of the girl. Offers to freelance sparked the writing bug again started her fingers happily tapping away on the keyboard. Monica lives with her husband and two children in Kennett Square.
Comments
comments