Carlos"Cap" Weil Jr. died peacefully on Dec. 1, in Chester County at the age of 78. Born in Philadelphia and raised in Upper Darby, Cap attended The Haverford School where he was both a scholar and an athlete. He continued his studies at Bucknell University where he received a bachelor's degree in chemistry.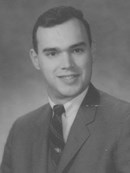 Aftergraduation Cap spent two years in the Army as part of the Chemical Corp. Afterleaving the service, he spent some time playing semi-professional soccer. Cap's entire career was spent working for Atlas Chemical which later became a part ofICI. His job gave him amazing opportunities to travel the world and even tolive abroad in England. He loved to tell stories of his adventures, especially about his work in Central and South America. He was a citizen of the world andrelished the time he got to spend immersed in other cultures.
never met a "stranger" and he made the world a better place because of his inquisitive and friendly nature. At home, Cap stayed busy with his family and a full plate of volunteer activities. He was a leader of the Explorer Scouts,taught rock climbing and refereed youth soccer games. He was a marvelous chef and read cookbooks like they were novels. He was always dreaming up newculinary delights for friends and family. In retirement, he filled his daysserving on the boards of numerous local organizations.
He was the board president of the Chadds Ford Historical Society and the BayardTaylor Memorial Library, supporter of the Tick Tock Early Learning Center and an organizer of annual community events like Chadds Ford Days and PumpkinCarve.
was everything to Cap and he spent life as a devoted son, brother, husband and father. In the last 20 years of his life, he especially enjoyed being "Pop Pop"to his five adoring grandchildren. He is survived by: his beloved wife Sally of53 years, son Carlos Weil III (Harris) of Cedarburg, Wisc., son James Weil (Julie)of Jupiter, Fla., son Michael Weil (Thursa) of Wellington, Fla., fivegrandchildren Emily, Peter, Betsy, Olivia and Ian Weil and his sister Janet VanCleave of Houston, Texas. He is preceded in death by his parents Carlos WeilSr. and Olive Loudenschlager Weil.
You are invited to visit with family and friends of Carlos on Saturday, Jan, 12, from11 to 11:30 a.m. at Unionville Presbyterian Church, 815 Wollaston Road, KennettSquare PA 19348. Services for Carlos will begin at 11:30. In lieu of flowers, the family asks that donations be made in Cap's honor to two organizations close to his heart: Chadds Ford Historical Society (www.chaddsfordhistory.org) and the Tick Tock Early Learning Center (www.ticktockelc.org). Arrangements by Kuzo & Grieco Funeral Home.
See Contributors Page http://chaddsfordlive.com/writers/
Comments
comments