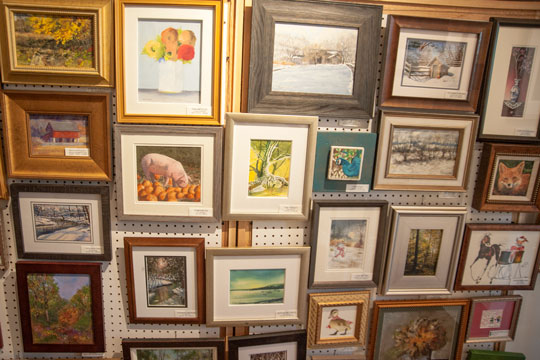 It was 37 years ago when Barbara Moore, the director of the old Chadds Ford Gallery implemented Christmas in Miniature. The idea, she explained, was to make it more affordable for people to start collecting high quality, professional art.
The gallery left Chadds Ford more than a year ago but Christmas in Miniature remains, now in Moore's own gallery, Barbara Moore Fine Art, in the same location as the former gallery in the Barn Shops.
This year's exhibit features the work of more than 40 artists, including two photographers. (Full disclosure, this reporter has images in the exhibit.) Several artists expressed their love and appreciation for the long-running annual exhibit during an invitation preview on Tuesday, Nov. 27.
Tim Wadsworth has had several solo exhibits at the little gallery and has been participating in Christmas in Miniature for about 23 years, he said. He keeps coming back because it's like home to him.
"This is my home gallery. I've had the opportunity to show at other [miniature exhibits], but this is always a good gathering of friends and customers."
Richard Bollinger is another artist with a long history showing there. He's been exhibiting at the gallery since 1976. While he usually paints larger sizes, painting smaller is a nice change for him, he said.
Chadds Ford artist Barbara Tlush, who's been showing in her hometown gallery since 2004, said she likes showing at the miniature exhibit because it gives her the opportunity to showcase some new work but added painting smaller also presents a greater challenge.
"I enjoy painting big," she said, "but for this show, I have to encapsulate, create a little nugget of art in a smaller space."
Chester County native Don Shoffner has been painting professionally and showing since 2003 after leaving his corporate job to devote his efforts to painting. He said showing in Chadds Ford has become a "prestigious" place to show, adding "It's a kick in the pants to be invited" to show here.
Unlike other exhibits where buyers have to wait until the end of the show to take home their newly purchased art, they can take them home as soon as they buy them during Christmas in Miniature. And as soon as one painting is taken off the wall, another goes up to replace it.
Christmas in Miniature offers art at prices that begin less than $100. The exhibit runs through Dec. 31.

Rich Schwartzman has been reporting on events in the greater Chadds Ford area since September 2001 when he became the founding editor of The Chadds Ford Post. In April 2009 he became managing editor of ChaddsFordLive. He is also an award-winning photographer.
Comments
comments