Pennsylvania State Police
• State police will be conducting sobriety checkpoints this holiday weekend, from Nov. 21 through Nov. 25.
• An 89-year-old Pennsbury Township woman was ripped off to the tune of more than $10,000. A state police report said someone contacted the Citadel Bank impersonating the victim. The unknown suspect was then able to gain access to her Citadel debit account as well as two other credit card accounts, stealing $10,148.
• Someone stole a red Ford F-350 from Garnet Ford on Route 202 in Chadds Ford Township on Nov. 13. The theft happened about 1:26 a.m., according to the police report. In addition to the truck, a snowplow and salt spreader were also taken.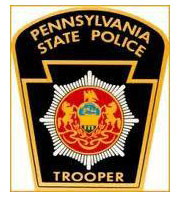 • An unnamed driver was cited for speeding following a one-vehicle accident on Route 1 at Cheyney Road in Concord Township. Police said the vehicle hit a guardrail after running off the road. The accident happened at 3:44 p.m. on Nov. 15.
• Two stores on Route 202 were victims of burglary earlier this month. A police report said that from 5 p.m. on Nov. 11 and 6:30 a.m. on Nov. 12., an unknown number of suspects entered the UPS Store and the Sherwin Williams paint store. UPS lost $3,100 in computers and $340 in cash, while Sherwin Williams was ripped off for $350 in cash.
• State police from the Avondale barracks said someone used a BB gun to crack two windows on the front of a house on Cossart Road in Pennsbury Township. The incident happened sometime between 11 p.m. on Oct. 30 and 9 p.m. on Oct. 31.
• An 80-year-old man was cited for careless driving after he ran his vehicle off the roadway of Route 82 at Dupont Road in West Marlborough Township on Oct.29. State police identified the driver as Michael J. Rotko, of Unionville. The 2011 Mercedes-Benz Rotko was driving wound up disabled in a ditch, the police report said. Rotko was not injured, according to the report
• Speed was a contributing factor in a one-vehicle accident in Pennsbury Township on Nov. 2, police said. They identified the driver as David E. Gibson, 30, of Kennett Square. The report said Gibson was driving a Dodge 2500 east on Route 926 just west of Brintons Bridge Road but was driving too fast for the wet road conditions; he lost control of the vehicle and ran into a guardrail. No injuries were reported.
Southern Chester County Regional Police
• Rodrigo Sanchez-Hernandez, 25, of Oxford, was arrested and charged with aggravated and simple assault, strangulation, and related offenses, following a physical altercation that resulted from a verbal argument. The incident occurred on Oct. 22 at 8:52 pm, in the 300 block of Scarlett Road, in New Garden Township. Sanchez-Hernandez was located by Oxford Borough Police and was turned over to the SCCRPD. He was processed and held for arraignment the following morning, after which he was initially committed to the Chester County Prison in lieu of $25,000.00 bail. He was later released after posting bail.

See Contributors Page https://chaddsfordlive.com/writers/
Comments
comments