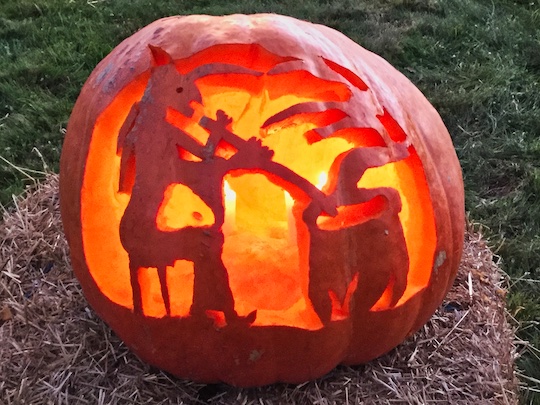 Visitors to this year's fall classic in Chadds Ford, The Great Pumpkin Carve at the Chadds Ford Historical Society, have more room to walk around without constantly bumping into other people.
The society rearranged the layout this year, moving the carving area from directly behind the Barn Visitors' Center to the larger space that was previously used only for the hayride. That made room for an expanded haunted trail.
"It was definitely a group decision," said CFHS President Phyllis Recca. "We needed to do something after last year."
The old space was exceptionally tight last year because of a ruptured pipe that flooded part of the old area. But instead of moving to the larger area, the society just compressed the carving area, giving carvers and viewers less room.
Event  Chairman Jennifer Terrey Manderscheid echoed Recca's sentiments, adding that many people complained last year and some wanted their money back. She said some of the kids cried last year because the smaller area led to the elimination of the haunted trail. This year, the society went to some extra expense this year, but that it was worth it to have the extra room and better lighting. Manderscheid said.
The new, larger layout allowed for seven zones of 10 pumpkins and carving teams each, while the older area was used for the expanded haunted trail.
The reviews by kids of the haunted trail were mixed. Anneliese, 7, said it was "Good and creepy," while an 8-year-old boy said it wasn't scary at all, "Not even a little." Many of the adults, however, showed their enjoyment with laughter.
The Carve runs tonight, Friday and again Saturday night. Admission is $15 for adults and $5 for kids 7-17.

Rich Schwartzman has been reporting on events in the greater Chadds Ford area since September 2001 when he became the founding editor of The Chadds Ford Post. In April 2009 he became managing editor of ChaddsFordLive. He is also an award-winning photographer.
Comments
comments