• The Pennsylvania State Police, Troop K, Media, continue their investigation of a fatal hit and run crash that occurred on Route 202 near Pyle Road in Concord Township on Oct. 3. The accident happened at 9:40 p.m. as the victim was walking north on the northbound shoulder of the road. The striking vehicle is a 2009 or 2010 white/pearl colored Ford Edge, SEL or Limited trim. The vehicle also has severe damage to the passenger side engine/hood area, front quarter panel area, and missing the passenger side mirror and the passenger side headlamp is out. Any information can be given to Pennsylvania Crime Stoppers at 1-800-4PA-TIPS and could be eligible for a cash reward. https://www.crimewatchpa.com/crimestoppers/316/cases/media-release-2345-fatal-hit-and-run-crash-unknown-suspect-%E2%80%93-concord-township-delaware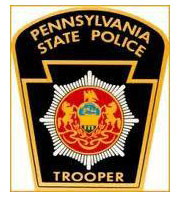 • State police from the Media barracks said Justin Skye Hoover, no age or place of residence given, was in possession of heroin when police made a traffic stop in the 800 block of Route 1 in Concord Township on Sept. 10.
• A Glen Mills man was the victim of attempted burglary on Sept. 21. According to a police report, someone entered the man's porch on Beech Tree Drive and tried to enter the home without permission. The incident happened about 4:02 a.m.
• Police are investigating the theft of three shoes from the DSW store in Concord Township o Oct. 2. shortly after 1:30 p.m. The shoes are valued at an estimated $200.
• Amanda Thomas, 29, of Ridley Park, was injured in a Sept. 25 one-vehicle crash on Concord Road, according to a police report. Police said Thomas was heading north on Concord just south of Valentine Drive but was driving too fast for conditions and lost control of the Dodge Dakota which began to spin clockwise. Thomas refused transport but complained of injuries, police said.
• An unnamed 18-year-old woman was arrested and charged with retail theft after stealing $500 worth of merchandise from Wegmans in Concord Township. The incident happened at 1:22 p.m. on Set. 29.
See Contributors Page http://chaddsfordlive.com/writers/
Comments
comments