A fireplace in front of a window, a freshly painted outhouse with a wreath of autumn leaves on the door, a pet door shaped like a cat, fish swimming in a fresh, spring-fed pond in the wine room, and a glass elevator are a few of the unique touches ticket-holders saw during the 2018 Chester County Day House Tour on Saturday, October 6.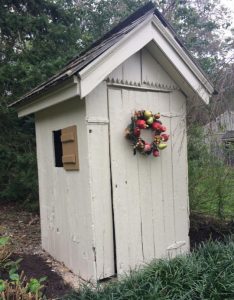 The oldest house tour in the nation, the 78th Annual Chester County Day House Tour "a Chester County tradition" is now a well-oiled machine planned and executed by the Women's Auxiliary of the Chester County Hospital. This year folks tramped around the northeast quadrant of Chester County, walking down long lanes and across open fields to visit sixteen homes and six public landmarks. The Women's Auxiliary new campaign, "Heart to Heart," intends to raise $1.25 million over the next few years, through their yearlong schedule of events, to benefit programs and state of the art equipment for the Hospital's Cardiovascular Center.
Debbie Hess, co-chair of the event, said, "All the stars aligned—including the weather—to guarantee a beautiful day." Smiles were abundant, which is the sign organizers look for to know they succeeded in their planning. Gail Guerl and Connie Fischer drove down countless country roads looking for interesting houses that would also fit into manageable routes. The organizers then placed easy to spot signs which the tour routes easy to follow.
Many tour-goers started the day at Loch Aerie Mansion in Frazer, dying to get a look at the interior of the mansion visible from Rt. 30 in Frazier. This Gothic beauty had been empty for decades except for when the Warlocks motorcycle gang occupied it. At day's-end, scores of people had toured through the main floor and had poured over family memorabilia. The home is now in the loving care of new owners who plan to offer the mansion for events such as showers, weddings, and private parties.
Another jaw-dropper on the tour was Soledad Mansion. Three full-time gardeners maintain the extensive gardens throughout the property. Longtime Unionville School District teacher Fran Wilson graciously and enthusiastically welcomed visitors at the front door. Owners Bob and Maria Soledad Hollenshead greeted visitors and answered questions, as did many of the homeowners on the tour. Soledad had stood empty for forty years until the couple rescued it, restored it to its former glory, and then added some new points of interest.
The Mill at Anselma was a delightful change of pace. This National Historic Landmark, considered the most complete, authentic example of a custom water-powered gristmill in the country, is a wonder to behold. Executive Director Will Caverly welcomed visitors in the parking lot with an introduction to the site. Trustee Kevin Kerr picked up the narrative on the path to the Mill. Inside The Mill, the knowledgeable volunteers explained the gristmill's step-by-step process in detail. If you missed this stop on the House Tour, you can visit The Mill through December 8.
Sponsorship Chair and President of the Women's Auxiliary Marie Robinson is thrilled that sales of VIP tickets doubled this year. She credits advance publicity, the chance to drive a Mini Cooper for the day, and a tour of a unique three-level Mediterranean-style home with its collection of jelly bean-colored Porsches, available only to VIP ticket holders, as irresistible enticements.
Erica Avello and her mom, Kathy Fisher, had a special reason for supporting the House Tour. "Chester County Hospital saved my son's life," explained Erica. It was just a few years ago that the Avellos rushed him to Chester County Hospital where the doctors' immediate evaluation of the situation revealed a brain tumor and a bleed. CCH staff helicoptered the boy to A.I. duPont Institute where he received treatment during a three-week stay. Erica is grateful to AIDI, but is convinced that if it weren't for the quick and expert treatment at Chester County Hospital, her son's frightening adventure might have ended very differently.
Debbie Hess says, "The culture of the House Tour is much like the Hospital itself. It's built upon family, friends, and neighbors. We live in a remarkable, history-filled area with many extant historic homes." "Aren't we fortunate to have these wonderful people keeping this history alive?" says Hess of the generous homeowners/caretakers who share their remarkable homes for this important event.

Lora has a passion for art, gardening, yoga, music and dancing. She continues to research the life of locally born abolitionist and 1998 National Women's Hall of Fame inductee Mary Ann Shadd Cary. She is a dedicated community volunteer, working with the American Association of University Women, Wilmington, DE branch (programs chair), Chadds Ford Historical Society (former board member) and Brandywine Conservancy & Museum of Art. Lora lives in Birmingham Township with her husband Bill and son Brad. Daughter Erika lives in Pittsburgh with husband Bob and baby Wilhelmina. She is a former French, Spanish and ESL teacher, bilingual life insurance underwriter and public relations coordinator for Delaware Art Museum and Brandywine Conservancy & Museum of Art.
Comments
comments