• Brandywine Battlefield Park will host a 9/11ceremony at 6 p.m. on Sept.11. The event is free and designed to remember and commemorate the anniversary of the Battle of Brandywine on Sept. 11, 1777, and the 2001 terrorist attacks. This program will feature speakers such as Gen. George Washington, State  Rep. Stephen Barrar, and others followed by a musket salute. Additionally, the Brandywine Battlefield Park Associates will dedicate their newly donated "Liberty Tree" behind Washington's Headquarters. This Liberty Tree is a propagated clone of an original Liberty tree that was used by supporters of the Continental Congress during the American Revolution in Annapolis, Md. and donated to the park by the Pennsylvania Sons of the Revolution. This is a rain or shine event.
• PAWS for People will hold training sessions for potential pet therapy teams in Kennett Square during September. There is a Sept. 13 orientation and a Sept. 27 training session from 5:30 to 8:30 p.m. Both sessions are required and will be held at The Friends Home, 147 W. State Street in Kennett Square. Anyone with a gentle, people-friendly pet who is interested in volunteering time to work with children and adults with varying needs should attend. PAWS for People provides therapeutic visits to individuals who will benefit from interaction with a well-trained loving pet.  Therapy teams consist of one volunteer and one pet who have both completed rigorous training and testing.  Visitation sites range from nursing homes and hospitals to schools and libraries, with a wide variety of programs including eldercare, psychiatric support, developmental disabilities, literacy skills development and many more. Pre-registration is required. Go to www.pawsforpeople.org or call 302-351-5622 for more information.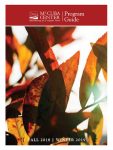 • Mt. Cuba Center is offering a class on container gardening on Thursday, Sept. 13. Cost is $45. It's part of a Fall gardening festival running through October. For information on this and other programs, go here.
• State Rep. Eric Roe, R-158, is having a senior breakfast, inviting all seniors of the 158th Legislative District to share their thoughts on state-related issues and be updated on current state legislation while enjoying a light breakfast. The breakfast will be held on Saturday, Sept. 15, from 9-11 a.m. at Kennett Middle School, located at 195 Sunny Dell Road in Landenberg. Everyone age 60 and older is welcome to attend. The breakfast is free to attend, but food is limited so RSVPs are encouraged by calling Roe's office at 610-388-3100.
• Bike the Brandywine is Saturday, Sept. 22. Explore the scenery, glimpse the history, and discover the lure of the Brandywine on the 3rd annual Bike the Brandywine. Ride a 25-, 45- or 80-mile loop in the beautiful Brandywine Creek Greenway and surrounding countryside. Proceeds from the ride benefit the Conservancy's clean water programs. To register, go here.
• Neumann University will hold an anti-human trafficking program on Thursday, Sept. 20 from 1-4 p.m. The program will address the issues of identifying trafficking, reporting steps and resources along with awareness and prevention strategies. Availability is limited. The program is free and includes refreshments. Parking is available. Registration will begin at 12:30 p.m. To register online, go here.
See Contributors Page http://chaddsfordlive.com/writers/
Comments
comments