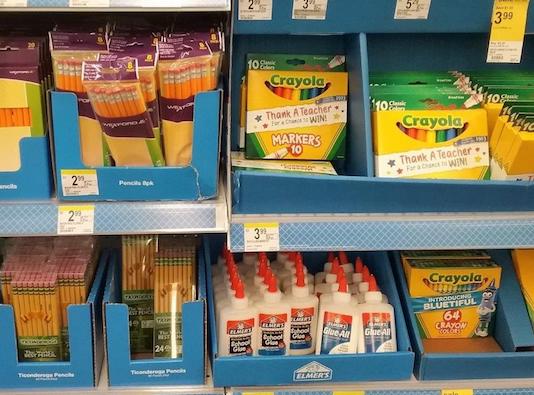 You know those days you wake up and think, "How did the world pass by without my noticing?"
I went to Strafford Elementary School in the Tredyffrin-Easttown School District, and now that I think about it, in those days there were still a few dinosaurs grazing outside the playground.
On the first day of third grade, Miss Dewees handed out school pencils, little scissors, wood rulers and boxes of eight Crayola crayons. They didn't give us fountain pens until fourth grade and only when our cursive writing was neat.
Yes, I hear you cry, "What's cursive, what's a fountain pen?" Back in the olden days, ballpoint pens were heavy, silver and given in fancy presentation boxes. Bic Clic had not quite arrived on the scene yet.
When we practiced writing, Miss Dewees gave us the yellow school paper with alternating blue lines and dashed lines so we knew how to make the small-case letters. When we had art class, she'd give us colorful sheets of school construction paper for making autumn leaves which we would glue on big rough-surfaced manila paper with the school's thick, white paste each classroom kept in a big jar.
So last week, when our church parish had its drive to collect school supplies for children of families in need, I thought, "that's easy."
(Yeah- I told you I went to school with the dinosaurs.)
I emailed my friend Barbara who's head of parish outreach. She directed me to our district's website to check out supplies listed by individual schools and grade.
I googled the nearest elementary school in our parish, looked up third grade, and found:
Scissors, five-inch blunt tip and latex free;  Clorox Disinfectant Wipes, bleach, pop-up canister; Kleenex facial tissue - medium box; folders, two pocket, six-pack, blue, red, green, yellow, purple, black; two each- highlighter with a chisel tip, yellow; five each -glue stick, washable; five each markers, dry erase, chisel tip, low odor, black; two each, composition book, marble cover, 100 sheets, black; 3 X 5 cards, lined, 100 count.; notebook, one subject 70 count wide-ruled, perforated, purple; notebook, one subject, 70 count, wide-ruled, perforated, green; one folder, two-pocket, white; one folder, two-pocket, orange; one set of pencils, ruler plastic standard/metric w/holes transparent, assorted colors, 12 inches; colored, 7-inch, sharpened, 12 / set; three dozen pencils, #2, Ticonderoga, sharpened; two each-eraser, pink, large, latex free; pencil case, vinyl, 11" X 6".
Not only that, but every student needed a backpack.
My head was spinning.
I looked in my desk drawer. My bright blue plastic transparent ruler was a marketing freebie from Commerce Bank. The few pencils I owned had the Staples imprint and my green backpack sported the National Wildlife Federation logo.
The next day, I went to my nearby office supply store and started shopping.
No, I didn't buy the back-pack on sale for $19.99, nor did I buy the entire list. I did buy the yellow highlighters, glue sticks, black- marbled composition book, pink erasers and the Ticonderoga pencils.
All the while I kept thinking, what do normal, middle-class people with 3 children do? What if a child brought in  Dixon pencils instead of Ticonderoga? And how many families would now have to forego their chicken dinners for macaroni and cheese?
I'll have to ask Barbara where they draw the line for families in need.

Sally Denk Hoey, is a Gemini - one part music and one part history. She holds a masters degree cum laude from the School of Music at West Chester University. She taught 14 years in both public and private school. Her CD "Bard of the Brandywine" was critically received during her almost 30 years as a folk singer. She currently cantors masses at St Agnes Church in West Chester where she also performs with the select Motet Choir. A recognized historian, Sally serves as a judge-captain for the south-east Pennsylvania regionals of the National History Day Competition. She has served as president of the Brandywine Battlefield Park Associates as well as the Sanderson Museum in Chadds Ford where she now curates the violin collection. Sally re-enacted with the 43rd Regiment of Foot and the 2nd Pennsylvania Regiment for 19 years where she interpreted the role of a campfollower at encampments in Valley Forge, Williamsburg, Va., Monmouth, N.J. and Lexington and Concord, Mass. Sally is married to her college classmate, Thomas Hoey, otherwise known as "Mr. Sousa."
Comments
comments