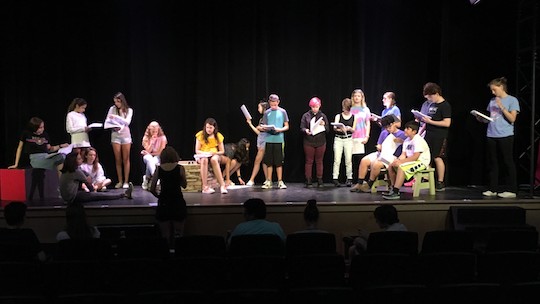 Talented Middle and High School age actors are seriously rehearsing Changing Minds the Musical, a screwball comedy for a new generation. It's a family friendly show that offers something funny and familiar for all who have experienced the social scene of the average school.
At Playa Sola High School, it's business as usual – the jocks, geeks, popular kids, etc., all try to navigate a world of insecurities, grades, fashions and text messages. Then, during a school trip to a historic mission, the minds of two high school seniors are inexplicably switched. Kyle, a charismatic slacker/surfer is helping everyone with their calculus, and scholastic superstar Natalie has become an expert on heavy metal lyrics and is calling everybody "dude." Kyle and Natalie have to find out how to get their brains back as they juggle friends, classes, rumors, scholarship competitions. Driven by a contemporary pop score that reflects influences from rock, techno, R&B, and rap, Changing Minds is a musical that's delightfully bright, laugh out loud funny. "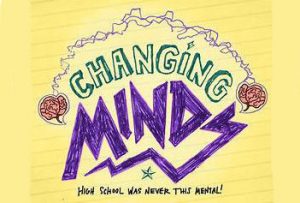 One of West Chester Studio for the Performing Arts' summer camps, Changing Minds is the summer Teen Show. "Campers", ages 12-17 audition for their roles, then meet and rehearse weekdays for three weeks. Eleven other camps for boys and girls ages 4-17 are offered through August 20, 2018, for one or two weeks, and feature a show for family and friends at camps' end. Taught by industry professionals, these include Storybook Theater for ages 4-7, Broadway Kids Cabaret for ages 7-12 and Summer Stock-Teens for ages 13-17. Enrollment begins annually in February and continues until the camp begins or fills up.
"Changing Minds the Musical," and all WCStudio at Uptown! camps, takes place at Uptown! Knauer Performing Arts Center, conveniently located near parking, shopping and restaurants at 226 North High Street, West Chester. Purchase tickets or enroll for camps at UptownWestChester.org, at the box office or call 610-356-ARTS(2787).
Performances are Thursday, Aug. 2, 7 p.m., Friday, Aug. 3, 7 p.m. and Saturday, Aug. 4, 2 p.m. & 7 p.m.

Comments
comments