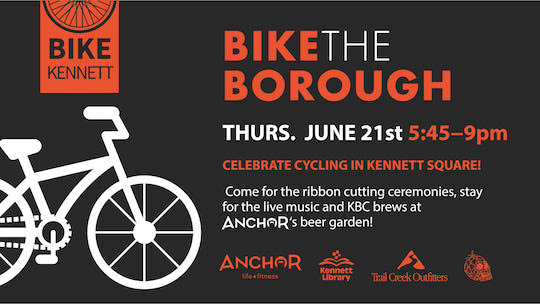 • Rasa Indian Cuisine in Chadds Ford's Painters Crossing shopping center has always offered a 10 percent discount to our veterans and active duty members but is now doubling that discount to 20 percent until Independence Day. Qualifying veterans or active duty military personnel should wear the uniform or show your military ID to the cashier. Rasa's menu is on, among other places, www.rasaus.com and we can be reached at 484-800-8109.
• The Barn Shops on Route 1 in Chadds Ford will be having a summer open house on Saturday, June 23, from noon to 6 p.m. There will be live music and a preview of the soon-to-open Chadds café. The grand opening for Chadds is planned for September.
• Youth ages 8 to 18 are invited to join Chester County 4-H on a candy making adventure. Candy making day camp will be held July 6, from 9:30 a.m. – 3 p.m. at the Penn State Extension Chester County 4-H Office. The cost of the program is $45.00. Participants will learn various candy making techniques and leave with various sweet samples of their work. Participants should bring a bagged lunch and are encouraged to bring an apron. Other supplies will be provided. Please notify us if your child has any food allergies prior to the class. Registration for Candy Making and all Summer Specials is processed in the Penn State Extension/Chester County office.  The registration details are available at https:// extension.psu.edu/programs/4-h/counties/chester/events or by calling the Extension Office at 610-696-3500.
• Kennett Square celebrates bicycling and offers free helmets at Third Thursday. Bike Kennett, the Kennett Library, and Anchor life + fitness, will host "Bike the Borough," two ribbon-cutting ceremonies on Third Thursday in Kennett Square on June 21.  The event will be a celebration of the new bicycle parking racks in the borough. The ribbon cutting ceremony at the Kennett Library will happen at 5:45 p.m. and the ribbon cutting at Anchor will be at 6. Afterwards, there will be a celebration at Anchor with beer from Kennett Brewing Company, live music, and a bicycle-powered smoothie blender where participants can whip up their own free fruit drink. On the same night, Bike Kennett will host a Bike Skills & Safety event geared to helping kids to be safe while bicycling.  This will be on a closed portion of N. Union Street during Third Thursday. There will be an obstacle course, free helmets, helmet fittings and tune-ups, all free of charge.  This event will last from 6-8 PM. Kids are encouraged to bring their bikes and helmets or come and try out one of our bikes.
• Winterthur will host Follies Summer Cocktail Party from 5-9 p.m. on Thursday, June 21. Celebrate the start of summer amid the follies! Eat, drink, and explore at a progressive cocktail party, featuring food and drink pairings throughout the garden exhibition.  $10 entry per person. Rain date June 28. (Additional food and drink charges apply.) Thirteen fantastic structures await discovery and exploration in Follies: Architectural Whimsy in the Garden. From a Gothic-inspired tower, an Ottoman tent, and neoclassical follies to a Chinese pavilion, American summerhouses, an enchanting faerie cottage, and creative contemporary follies. Follies can be enjoyed by foot or on the tram.
• East Bradford Township and CCWA - Paradise Farm Camps will host the seventh annual Trail Blazer Run on Saturday, June 16, on the Paradise Farm Camps property located at 1300 Valley Creek Road in Downingtown. There will be two events, a 5-mile trail run and a 1-mile family fun hike. All proceeds from the event go directly towards the East Bradford Township public trails program. Registration for the 5-mile trail run is $25 until June 15 and $30 on race day. Individual registration for the 1-mile family fun hike is $20 until June 15 and $25 on race day. To register in advance and pay with a credit card, entrants should register online at https://www.runtheday.com/register/detail/trail-blazer-run-sponsored-by-victory-brewing-co1. Onsite registration begins at 2:30 p.m., the race starts at 4 p.m. The Trail Blazer Run will be held rain or shine and fees are non-refundable. For more information, contact Rich Phifer at 610-436-5108, ext. 108 or visit https://www.runtheday.com/register/detail/trail-blazer-run-sponsored-by-victory-brewing-co1.
See Contributors Page http://chaddsfordlive.com/writers/
Comments
comments