Pennsylvania State Police
• State police from the Avondale barracks said they arrested Humberto Guzman-Garcia on kidnapping and rape charges on June 10. According to the report, police were dispatched to a property in Avondale and determined that Guzman-Garcia entered the home and took the victim away from her home and committed several sexual acts before her parents found her outside. The accused, police said, was found hiding in a nearby vehicle. No other details were released.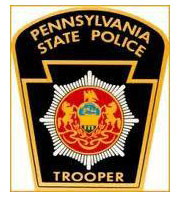 • An unidentified suspect who police described only as a black male, 20-30 years old, wearing a pink shirt, pink hat and a dark colored jacket, unzipped a woman's purse and removed her wallet and within 30 minutes used the victim's credit cards at the Walmart in East Marlborough Township and at Best Buy in Wilmington. The thief ran up a bill of almost $4,000. The incident happened on May 20.
• Police said Louis David Freeman, 24, stole a $248 Sony Blue Tooth speaker from the East Marlborough Township Walmart on June 6. An asset forfeiture representative was able to get the accused's license plate number.
• A 52-year-old man from West Grove was cited for driving at an unsafe speed following a one-vehicle accident on Newark Road in West Marlborough  Township. Police identified the driver as Angel L. Lopez. According to the report, Lopez was driving south on Newark Road about 4:01 a.m. on May 26 when he lost control of the 2014 Chevrolet Cruise he was driving. He struck two embankments and a tree before rolling over two or three times, the report said. Lopez was also injured, police said, but he refused transport.
• An unidentified driver was cited for driving at an unsafe speed after a June 6, one-vehicle accident on Doe Run Road in West Marlborough Township. The 1:30 a.m. accident happened when left the road at a left-hand curve. The Chevrolet Silverado traveled off a berm into a ditch. No injuries were reported.
• Police said Michael Hays, of Delaware County, was arrested for retail theft and criminal mischief after an incident at Walmart in East Marlborough Township on June 3. According to the police report, Hays used a pocket knife to open a Bear Attach Deterrent plastic case and removed the deterrent and tried to leave the store without paying.
• Police are investigating a May 2 case of transmitting sexually explicit images of a minor. The incident happened on Unionville Road in East Marlborough Township. According to the police report, a juvenile posted a sexually explicit video on a social media site. The video was recorded and disseminated to multiple juveniles.
Southern Chester County Regional Police
• Lloyd K. Shank, 57, of Avondale, was arrested and charged with drug and traffic violations after he was found to be in possession of marijuana and related paraphernalia, following a traffic stop for an expired registration. The incident occurred 9:24 a.m. on May 1, in the 9100 block of Gap Newport Pike, in New Garden Township. Shank was taken into custody, processed, and released pending issuance of a summons.
• Isaiah M. Rojas, 20, of Kennett Square, was charged with indecent exposure and disorderly conduct, following the investigation into an incident that was reported to have occurred April 24 at 4:20 p.m., in the parking lot of 345 Scarlett Road, in New Garden Township. The victim reported that she was parked in the lot when a Hispanic male subject pulled next to her vehicle. She looked over and noticed that he was reclined in his seat. He reportedly had his genitals exposed and appeared to be masturbating.
• Stephanie T. Enriquez, 33, of Kennett Square, was arrested and charged with two counts of endangering the welfare of children and one count of DUI  after she was found to have driven her two children, ages 4 and 12, to district court, while she was under the influence of a controlled substance. The incident occurred on May 2 at 916 West Cypress Street, in New Garden Township. Court staff notified police after they observed Enriquez struggling to unfold money in her hand, swaying, closing her eyes, and bobbing her head, while standing.
See Contributors Page http://chaddsfordlive.com/writers/
Comments
comments