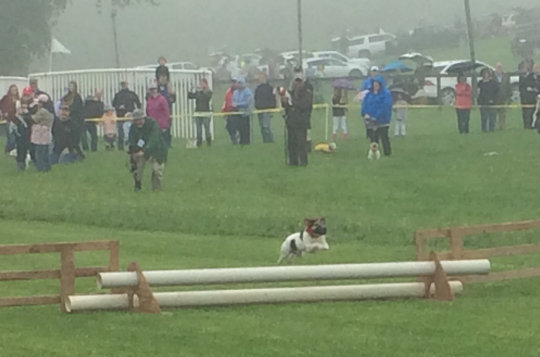 I have lived in Birmingham Township for twenty-three years, but until this past Sunday, I had never attended our neighborhood's Willowdale Steeplechase. A large reason for this is that Willowdale is a "Mother's Day Tradition," which means it always occurs on Mother's Day. Until their deaths, I traveled with my family to spend the day with my mother and mother-in-law and the rest of the family.
As a newbie to Willowdale Steeplechase, I was grateful for the wonderful signage throughout the grounds and the easy-to-hold-and-refer-to program booklet. The booklet helped me get my bearings and understand when a scheduled event was happening and where.
Willowdale shares similarities to Point-to-Point and Radnor Hunt but is more intimate and casual. There is a tailgate competition, an antique car display and kids' and canine activities all day. The organizers' goal is to provide a day of fun as well as bringing the community together to support three worthy causes: clean water, veterinary excellence and services for children with special needs. The 26th Running of the Willowdale Steeplechase Race benefits Quest Therapeutic Riding Services, Inc., The Stroud Water Research Center and The University of Pennsylvania School of Veterinary Medicine at New Bolton Center.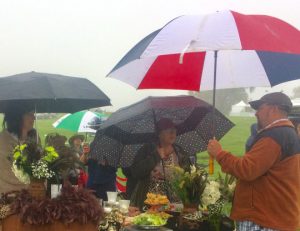 Associate Race Director Lisa Hatcher points out the unique aspects of Willowdale Steeplechase, stating, "Attendees can freely move from one section to another without a specific-colored ribbon." Another plus for Willowdale is that guests can view the races from almost any location on the field.
This year boasted the biggest field of horses competing in six races for over $100,000 in prize money. Organizers changed the order of the races this year to build excitement throughout the day. Race Chairman W.B. Dixon Stroud, Jr. explained, "Having the hurdle races first makes changing of the jumps on the course in between races quicker and smoother. Also, with the new order, the bigger solid timber fences and intimidating water jump are saved for the grand finale."
Last Saturday, ticket holders began arriving when the gates opened at 10 a.m. Children's games were in place and the shops were open. The Jack Russell Terriers were assembled and preparing for their race. Everyone was hoping that the mist and light drizzle would disappear and leave us with beautiful skies. That did not happen. The rain continued and the temperature never moved out of the bone-chilling range.
Bette and Roger McConnell of Unionville staked out their usual spot to watch the Jack Russell Terrier Races. They placed their lawn chairs midway along the racetrack so they could see the dogs blasting out of the starter boxes and reaching the finish line. Although there were some exceptional dogs who caught the zooming, battery-operated "fox tail" almost immediately, some of the dogs stopped or wandered off to see what else there was to explore in the field.
According to Hatcher, pre-sale tickets were "phenomenal," and parking sold out ahead of race day. "Because of the weather, we didn't know if people with tickets would come or not, but they did!" All of the horse races and other scheduled events, including The Miss Nancy Nicholas Memorial Side Saddle Race, went off without a hitch despite the rain. "There were no accidents and the vendors did great!," says Hatcher. Diehard Willowdale Steeplechase fan Mark Dance of Unionville and his friends stayed until the bitter end. Says Dance, "We considered it a challenge to persevere. The day was still fun, and we accepted the rain as an invited guest."
The Willowdale Steeplechase Race--a Mother's Day tradition since 1993. I hope it is a new one for me.

Lora has a passion for art, gardening, yoga, music and dancing. She continues to research the life of locally born abolitionist and 1998 National Women's Hall of Fame inductee Mary Ann Shadd Cary. She is a dedicated community volunteer, working with the American Association of University Women, Wilmington, DE branch (programs chair), Chadds Ford Historical Society (former board member) and Brandywine Conservancy & Museum of Art. Lora lives in Birmingham Township with her husband Bill and son Brad. Daughter Erika lives in Pittsburgh with husband Bob and baby Wilhelmina. She is a former French, Spanish and ESL teacher, bilingual life insurance underwriter and public relations coordinator for Delaware Art Museum and Brandywine Conservancy & Museum of Art.
Comments
comments