• Pennsbury Township's annual yard sale is scheduled for this Saturday, April 28 from 9 a.m. to 2 p.m. The rain date is Saturday, May 5.
• Is your backyard pollinator-friendly? Find out how you can support pollinating insects in your own yard and community during the Brandywine Conservancy's "A Passion for Pollinators" event on May 2. Led by Drs. Faith Kuehn and Thalia Pappas, this interactive lecture is held in conjunction with Longwood Gardens' annual Community Read event—a program designed to encourage reading for pleasure and start a conversation—celebrating women in horticulture and the book, Lab Girl, by Hope Jahren. "Community Read Event: A Passion for Pollinators" will be held on Wednesday, May 2, from 6:30 to 8:30 p.m., in the Brandywine River Museum of Art's lecture room. Admission is $5 for non-members and free for Brandywine Conservancy & Museum of Art members and Conservancy easement landowners; light refreshments will be provided. Tickets can be purchased by visiting www.brandywine.org/conservancy/events.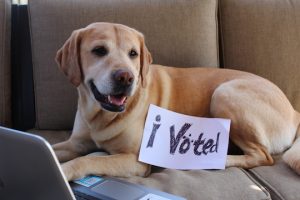 •  Canine Partners for Life is one of three finalist organizations in the running for a $100,000 donation from "NRG Gives," a charitable-giving program sponsored by the NRG Retail Charitable Foundation. NRG Gives expands NRG's community outreach across Pennsylvania, sharing the power of giving with local communities. Kicking off on April 30, and running through May 7, the public can cast their vote for three Pennsylvania nonprofits by visiting nrghomepower.com/nrggives. The nonprofit with the most votes during the voting period receives $100,000. The other two nonprofits receive $20,000 and $10,000 based on the number of votes received, respectively. Voting available online at nrghomepower.com/nrggives. The public can vote once per day, per device, and the site will let them share their votes on social media.
• The Land Conservancy will be co-hosting its annual 10k/5k Run for Conservation this mid-May with an estimated attendance of 300 runners. We'll also have a free Kids 1K and Kids Zone for runners' children, so all ages can participate in the community's enjoyment of outdoor space and efforts to preserve it. The race will be held on Saturday, May 12, at Stateline Woods Preserve in Kennett Square, at 10 a.m.
• The Brandywine River Museum of Art will hold its Spring Garden Walk on Friday, May 4, from 10 to 11 a.m. Members admitted free, non-members $5. As the plant world awakens from its winter slumber, the green growth and flowers of early blooming plants is an exciting time in the garden. Join us for a guided walk through our campus and experience the burst of new life in the spring. We will see spring ephemerals, perennials and trees blooming, plus learn how these native plants function in a healthy ecosystem. The walk will last approximately 45–60 minutes. Registration is required.
• The Chadds Ford Historical Society introduces a brand-new music festival this year – Music in the Meadow. Don't miss out on joining us for this relaxed, community music fest right in the heart of Chadds Ford and the Brandywine Valley on Saturday, May 19, from 12 p.m. to 7 p.m. Advance tickets are available for $15 for adults 18 and older and free for children 17 and under. CFHS members are free with membership card. Visit our website at www.chaddsfordhistory.org to purchase tickets and for additional information. A rain date is scheduled for Sunday, May 20.
• Mt Cuba Center's 14th annual Wildflower Celebration, an homage to the fleeting beauty of spring, is this Sunday, April 29 from 10 a.m. to 4 p.m. The free celebration includes live music, children's story time and the opportunity for the first 1,000 families to take home a free native plant, as well as gardening demonstrations and a chance to explore Mt. Cuba Center's naturalistic gardens at the peak of their springtime bloom.  More information is online, here.
• Train Day is approaching the Marshall Steam Museum. The date and time of arrival are Sunday, May 6 from 12:30 to 4:30 p.m. Take a ride on the 1/8-size Auburn Valley Railroad and experience the beauty of Auburn Heights as you circle through a tunnel, over a trestle bridge and past the 1897 Marshall mansion. Learn all about the jobs on the railroad and the special tools they used, try your hand at being a railroad fireman and shovel coal at the Little Tykes Tender or build your own train out of recycled materials. General admission includes four rides on the Auburn Valley Railroad: $8 ages 12 and up (infants free). Rides Ticket admission is free for Friends of Auburn Heights Preserve members. A Mansion Ticket: includes a tour of the first floor of Auburn Heights: $5 all ages and a combo ticket: covers it all, rides and mansion: $13 ages 2 and up (but infants free).
• Tickets go on sale Thursday, April 26 at 10 a.m. for the first annual Connective Art and Music Festival. This family-friendly festival is hosted in partnership by the Oxford Arts Alliance and Oxford Mainstreet Inc. It offers two ticketing options. General Admission $5 plus tax & fee(s) gives you access to all of the day-time activities including, the Country Music Line Up, Local Stage, World Stage, Art & Nature Skill Share Tent, Music Skill Share Tent, Kid's Tent, Clash of the Canvases Competition, and the Battle of the Bands Competition. General Admission PLUS Night Pass is $20 plus tax & fee(s) gives you access to everything the general admission pass gives you, plus exclusive access to the evening show with Battle of the Bands winner opening for platinum recording artist, EVE6! Once inside the gates, all activities, three music stages, art demonstrations, and walk-up workshops are free. You will only need to buy your food and a commemorative t-shirt. Purchase Tickets online at www.connectivefestival.org
See Contributors Page http://chaddsfordlive.com/writers/
Comments
comments