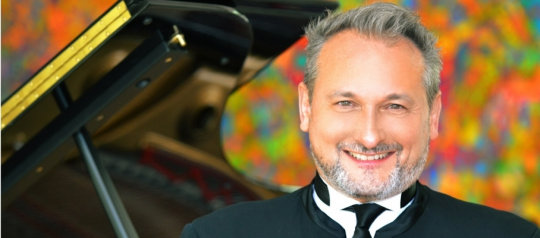 Auditions are open to record live at Longwood Gardens for NPR's "From the Top" with Host Christopher O'Riley. The hit radio program showcasing America's best young classical musicians is seeking local talent for its live recording on September 9, 2018 at Longwood Gardens in Kennett Square, Pennsylvania. The weekly hour-long radio program is heard on WRTI 90.1 FM, Sundays at 3 p.m. as well as more than 200 other stations nationwide. This broadcast recording will be presented as part of Longwood Garden's 2018 Summer Performance Series. Tickets can be purchased at longwoodgardens.org.
Pre-collegiate classical musicians from throughout the region are invited to audition either online at fromthetop.org/apply or by signing up for a live audition at WRTI's Performance Studio on Sunday, May 20. Instrumentalists, vocalists, composers, and ensembles from ages 8-18 are eligible.
Applicants with financial need may also be eligible for From the Top's Jack Kent Cooke Young Artist Award, a scholarship of up to $10,000. Details available at fromthetop.org/scholarship.
Live auditions will occur Sunday, May 20, 2018 from 10:00 a.m. to 5:00 p.m. at the WRTI Performance Studio located at 1509 Cecil B. Moore Ave. 3rd Floor in Philadelphia. To sign up for an audition slot, please contact: auditions@fromthetop.org.
Accompanists are welcome/optional, but not provided. Students should come prepared with 1-2 pieces of classical repertoire, a non-concerto repertoire is ideal.
Interested young musicians that cannot attend the live auditions can also submit recordings and complete an application online at fromthetop.org/apply by Sunday, May 20, 2018.
From the Top is America's largest national platform celebrating the stories, talents, and character of young classically-trained musicians. Through live events, NPR and video broadcasts, scholarships, and arts education programs, we empower these extraordinary young people to engage and inspire music lovers of all ages. For more information, visit fromthetop.org.
Longwood Gardens is one of the world's great gardens, encompassing 1,077 acres of gardens, woodlands, meadows, fountains, and a 4-acre conservatory. Longwood continues the mission set forth by Mr. du Pont to inspire people through excellence in garden design, horticulture, education and the arts, through programming that includes exhibitions, performing arts, renowned horticulture education programs, horticulture research, environmental stewardship and cultural and community engagement. Longwood Gardens is on US Route 1 near Kennett Square, PA, 30 miles west of Philadelphia.          

Comments
comments