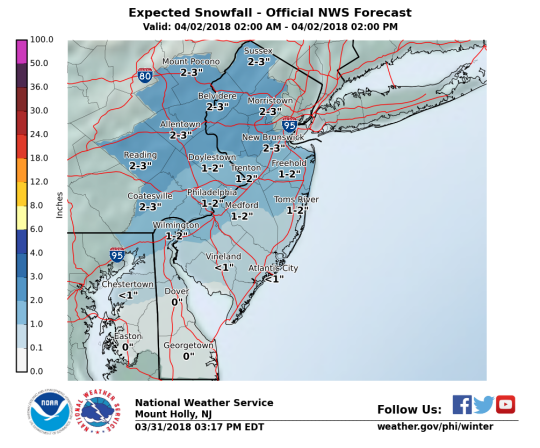 The National Weather Service in Mount Holly, NJ has shared the following information about the potential snow event that may affect Chester County beginning Sunday night (4/2/18) into Monday morning.  Here are the details:
Forecasted Conditions for Chester County:
Here are the key messages for the weather through Monday.
Light snow accumulations are possible late Sunday night into Monday morning
Snow amounts forecasted are possible 1 to 3 inches across the county
Timing:
Snow should move in between 2 a.m. to 4 a.m. Monday
The snow could briefly become moderate to heavy in spots sometime between 4 a.m. to 9 a.m. Monday before tapering off.
Recommended Preparedness Actions:
Follow the NWS and local weather forecasts for the latest changes, updates and information.
Impacts:
The timing of snow coinciding with the morning commute could lead to slippery road conditions and possible travel delays Monday morning.
DES Actions:
We will continue to monitor this event and provide additional information as it becomes available.
The Watch Officer is available through the 9-1-1 Operations Center
Additional briefing will be distributed if condition change significantly for Chester County.
This post is provided by ReadyChesco.

Comments
comments