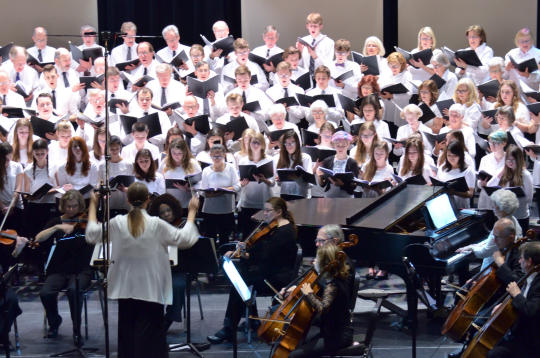 The Eleventh Annual Jonathan Beech Memorial Concert will take place on Saturday, April 7, at 2:00 P.M. in the Kennett High School Auditorium, 100 E. South Street in Kennett Square.  The beneficiary of this year's event is the Neuro-Oncology Division of The Children's Hospital of Philadelphia, the hospital where Jonathan received four years of outstanding care and support.
The concert was begun in 2008 as a way to keep a promise to Jonathan to thank the community and the many organizations that helped him and his family during his battle with brain cancer.  Since then, it has become a very moving multi-generational music event involving many professional and amateur  musicians from the surrounding area.  The past ten concerts have donated over $102,000 to various organizations that assist children dealing with cancer, and their families.
This year's concert will feature music of some of our many talented local composers:  Chester County composers Samuel Barber, Jennifer Nicole Campbell, Ann Wyeth McCoy, and Wilson Somers; Wilmington composers Neil Harmon and Michael Larkin; and Temple University composer Rollo Dilworth. Performing together will be about 140 teens and adults from various area church, community, and school choirs, accompanied by a small professional orchestra.  The combined forces will be under the direction of Donna Beech, Jonathan's mother.
The first half of the concert will include performances by The Tatnall Singers, under the direction of Wilson Somers; Kennett High School Select Chorus, under the direction of Katie Soukup; and Kennett Middle School Treble Chorus, under the direction of Pattie Mancuso.  The concert will conclude with the combined forces of all singers performing John Rutter's "For the Beauty of the Earth", and Handel's "Hallelujah Chorus", an annual concert-closing tradition.
Suggested tax-deductible contribution for the concert is $20 for adults, and $10 for children, although any contribution is appreciated.  Money raised from this concert will be given to the Neuro-Oncology Division of The Children's Hospital of Philadelphia. "This is where our son Jonathan received his treatments in his battle with brain cancer. We felt blessed to have one of the country's top hospitals practically in our own backyard," says Marty Beech. "Although Jonathan lost his fight, we are happy to see that more and more children are surviving this disease.  We continue to hope that with ongoing research and continued improvements in therapies, more children will not only survive, but will live with a good quality of life."
Jonathan Beech Memorial Concert, Inc., is a 501(c)(3) non-profit organization.  All contributions are tax-deductible.  More information can be found at the website  www.JonathanBeechMemorialConcert.org.  The concert is hoping to raise $10,000 for CHOP, as it has for other organizations each year.  Anyone who cannot attend the concert but would like to contribute to the cause can mail checks to 474 Greenwood Road, Kennett Square, PA 19348.

Comments
comments