Happy Spring! Frankly, I'm a little disappointed with the decreased precipitation estimates. If my spring is going to act like winter, it better act wintery as all get out. I demand two feet or more at this point. We will get through this, Chester County. In fact, we have some things to look forward to, once you dig yourself out of the fourth igloo in the last month.
Fairville Village is about to become an art destination, with the opening of Gallery DUO in April. Photographer Alessandra Manzotti, and contemporary painter Sus Iserbyt have taken over the second floor of the Old Forge next to the Fairville Inn and will debut their collaboration at their soft opening on April 20th at 6:30 p.m.
You may recognize Alessandra Manzotti's work, as she has exhibited at Philter Coffee, and previously had a booth or, area, at worKS on Walnut Street in Kennett Square. Manzotti spans all the different genres of photography from portraiture, to landscapes, to more abstract compositions. Each piece has a boldness about it, a focal point that rushes up to demand attention. The contrast in her portraits, whether they are black and white, or in color, are severe in their treatment of sharpness and contrast, creating a dramatic depiction of the subject. Her landscapes cover Chester County, as well as Italy and beyond. Manzotti has just returned from Mongolia and will be featuring photography from her excursion, as well as other previous work, at this soft opening.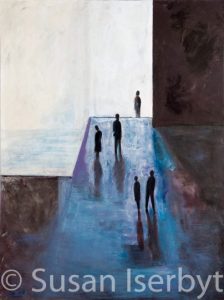 Sus Iserbyt's large scale paintings read as architectural conceptual drawings. They play nicely with Manzotti's photography in that both of these artists employ stark contrast in their compositions. Iserbyt's paintings also explore negative space, and minimalist color palettes that usually feature one pop up color that stands out and completes the painting. I look forward to seeing how these two artists curate their work. Opening Reception for Gallery DUO is Friday, April 20th at 6:30 p.m. at 522 Kennett Pike in Chadds Ford.
You can also see Manzotti's work at the Trail Creek Outfitters in Glen Eagle shopping center on April 13th at 6:30pm.
We have a rescheduled event! The Delaware Contemporary is closed March 21st due to the storm, and has postponed their On Art: Artist Talk to next Wednesday, March 28th. Join Artist John Breakey for this presentation in the series. On Art takes place from 5:25 to 6:00 p.m. in the Wings Foundation Auditorium.
Blue Streak Gallery will try again to host the reception for their exhibition: Materials In Space featuring sculptors Jeff Bell, Lele Galer, Rob Sigafoos, Stan Smokler, and Bill Spiker. They were snowed out on March 2nd, so take the opportunity to join them in their second attempt on March 29 from 5 to 7 p.m.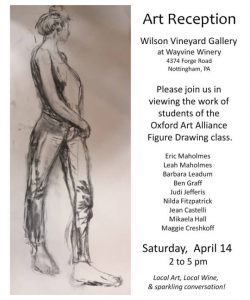 Hopefully the weather will hold out for the opening of Wilson Vineyard Gallery's opening reception for the students of the Oxford Art Alliance figure drawing class. Take in some classical drawings with a glass of wine on April 14th from 2 to 5 p.m. Featured artists include: Eric Maholmes, Leah Maholmes, Barbara Leadum, Ben Graff, Judi Jefferis, Nilda Fitzpatrick, Jean Castelli, Mikaela Hall and Maggie Creshkoff.
This weekend, I will be attending the opening of PA Made of Steel at The Hill School Center for The Arts this Friday, March 23rd from 7 to 9 p.m. I featured this exhibition in last weeks' article. Join me in welcoming artists Klaus Grutzka, Karen Delaney, Katee Boyle and David Haine. Hope to see you there!
The Palette & The Page has a one night event coming up on April 20th at their gallery space in Elkton,
MD. Chocolatier Christy McDevitt of North East Chocolates will present her chocolate art gallery. The best part of this exhibition is it's interactive..ahem, read: you're invited to sample the confections! Event runs from 5 to 8 p.m. I think I may put this on my to-do list as well…
I wish I had a backyard during these snow storms so I could create some sort of monstrous snow creature to share with everyone. Alas, I am an apartment dweller and I don't want to mess with the gravel-laden snow of the parking lot. To that end, if you come across snow sculptures, or other wintery outdoor creations, or just make something you're proud of, send images my way to caroosevelt@gmail.com and I'll feature some of the more fun results of these snowstorms in the next article! Be sure to include your name and basic geographic location, unless you'd like to remain anonymous. Until next week!

Caroline​ ​Roosevelt​ ​is​ ​a​ ​writer​ ​and​ ​artist​ ​based​ ​in​ ​Kennett​ ​Square,​ ​PA.​ ​She​ ​received​ ​her​ ​B.A.​ ​in Art​ ​History​ ​from​ ​Connecticut​ ​College​ ​and​ ​a​ ​Post​ ​Baccalaureate​ ​certificate​ ​from​ ​Pennsylvania Academy​ ​of​ ​Fine​ ​Arts.​ ​She​ ​has​ ​previously​ ​written​ ​art​ ​coverage​ ​in​ ​Seattle,​ ​WA​ ​and​ ​Philadelphia, PA.​ ​She​ ​currently​ ​co-hosts​ ​Art​ ​Watch​ ​radio​ ​on​ ​1520​ ​WCHE.
Comments
comments