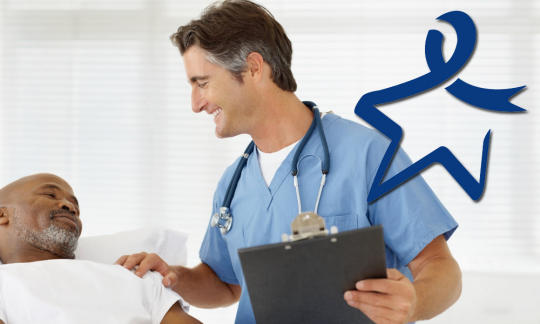 A risk factor is anything that impacts your risk of developing cancer or another disease. Because every type of cancer is different, each form has their own risk factors – some of which you can control.Identifying and understanding your risk for certain cancers, especially colorectal cancer, isn't meant to scare you. In fact, having one or even many risk factors doesn't mean you'll automatically develop it.
But knowing your risk of colorectal cancer gives you the opportunity to change things in your life that may increase your risk of the disease. Here are factors that may raise your risk. Below some of the risk factors are explained.
Diet
You know that saying "you are what you eat?" That is a playful reminder that food plays a big role in your overall health. Studies have found this to be true when it comes to an increased risk of colorectal cancer.
Consuming a diet high in red meats and processed meats can raise your risk of this type of cancer. Similarly, there's an association between cooking meats at very high temperatures and your cancer risk – some studies have found frying, broiling or grilling meat at a high temperature creates chemicals in the meat that may raise your risk of cancer. Colon and rectal cancers may also be linked with a diet high in fat and calories and low in fiber.
However, eating a diet high in vegetables, fruit and whole grains are associated with a lower risk of colorectal cancer.
Weight
Being overweight or obese puts you at risk for a litany of serious and fatal health conditions, including cancer. Obese individuals have an increased risk of colon cancer as well as an increased risk of dying of this type of cancer compared to people of normal weight.
Activity Level
Leading an inactive or sedentary lifestyle can create a greater chance of developing colon cancer. Being more active is believed to help lower your risk.
Smoking
Smoking cigarettes is a well-known cause of lung cancer, but it's also linked to other forms of cancer, including colorectal cancer. Smokers are more likely than non-smokers to develop and die from colorectal cancer.
Excessive Drinking
There's a link between an increased risk of colorectal cancer and heavy alcohol use. However, drinking in moderation is ok – two drinks a day for men and one drink per day for women could provide health benefits, including a lower risk of colorectal cancer.
Reducing Your Risk
While these risk factors of colorectal cancer can be managed and modified, there are some risk factors that cannot be changed, including family history of colorectal cancer, age, inflammatory bowel disease (IBD), type 2 diabetes, and a personal history of colorectal cancer or polyps.
Even though you can't take control of all of the colorectal cancer risk factors doesn't mean you can't be proactive about managing what you can manage.
To help lower that risk, you should have a colonoscopy when you turn 50 and then every eight to 10 years thereafter.
When you have a colonoscopy, it gives your doctor the ability to look for pre-cancerous polyps and remove them, eliminating the possibility that the polyp will turn into cancer.
Scheduling a Colonoscopy
To make it as easy as possible for you to schedule a colonoscopy appointment, some Crozer-Keystone physicians now offer "direct access" scheduling for patients who are between the ages of 50 and 75, asymptomatic and in generally good health. This means you get a colonoscopy on your first visit with no extra trips to the doctor's office, saving you time.
Whether you meet the "direct access" criteria or not, contact us today and we will help you schedule your colonoscopy. Call 1-877-CKHS-GI1 (1-877-254-7441) or use the online Appointment Request Form to schedule an appointment today.

Crozer-Keystone Health System's physicians, specialists and advanced practitioners are committed to improving the health of our community through patient-centered, quality care across a full continuum of health services. Crozer Brinton Lake is Crozer-Keystone's comprehensive outpatient care facility in western Delaware County, offering primary care, specialty services, outpatient surgery and advanced cancer treatment. Contact us: 300 Evergreen Drive, Glen Mills, PA 19342 http://www.crozerkeystone.org/Brinton-Lake 1-855-254-7425
Comments
comments