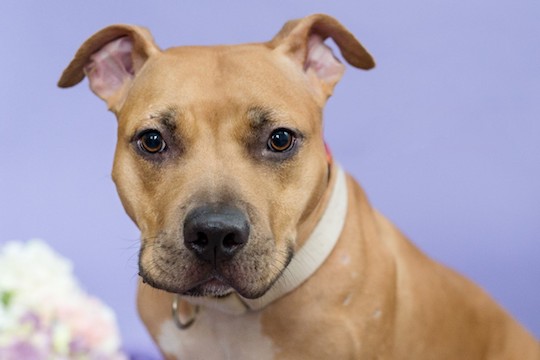 The following animals are ready to be adopted from the Brandywine Valley SPCA in West Chester.
Nibbles
Nibbles is a wiggly 1-year-old who hasn't been dealt the best cards. She arrived with severe wounds on her face and body, but with a great medical team behind her, she has healed so beautifully her scars are barely noticeable. Nibbles has a big personality; she loves everyone she meets and will wiggle away while you pet her. She loves to play with her toys and snuggle up to you. Her foster mom has even been working on crate training and housebreaking, so she's ready to go. She will need to be the only pet, but she is great around children and will give you all the love you need. Nibbles is in foster care, if you are interested in meeting her, please send an email to ngrohowski@bvspca.org. Nibbles can be adopted at a fee you name through Sunday, Feb.18.
Bentley
Bentley is 1 year old, but he still seems to think he's a tiny kitten. He is so playful and hasn't quite figured out why he can't zoom and fly all over the place like he could when he was itty bitty. Before arriving here, Bentley lived in a foster home with other cats and dogs, and they got along just fine. Bentley would love a big cat tree near a window to lounge on once he's got all his "zoomies" out. Oh, did we mention he has the cutest pink and black jelly bean toes in the world? They're irresistible. This superstar can be adopted at a fee you name through Sunday, Feb. 18.
For more information, go to www.bvspca.org or phone 610-692-6113.
See Contributors Page http://chaddsfordlive.com/writers/
Comments
comments