Pennsylvania State Police
• State police from the Media barracks said a man from Linwood, not identified by name, assaulted a woman in an IHOP in Concord Township on Jan. 29. The victim sustained minor injuries to her face, and hand and her iPhone was damaged.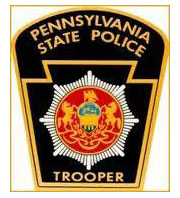 • There were no citations issued or injuries reported, but police said a three-car accident on Route 1 at Cheyney Road on Feb. 3 was the result of a car crossing through the intersection with a green light but striking two vehicles that were part of a funeral procession.
• An accident at Route 1 and Cheney Road on Feb. 9 resulted in a Glen Mills man being cited. Police said Nicholas DiBerardo, 48, was driving north on Route 1 when he left his lane of travel and struck another car in its 7 o'clock position. Police reported no injuries.
• Stephen K. Feddick, 40, of Ocean View, Del., was cited for speeding after a crash on Route 202 in Chadds Ford Township on Feb. 9, according to a police report. The report said Feddick and the other vehicle were both traveling south in the right lane, just south of Route 1, when Feddick, driving at an unsafe speed tried changing lanes but failed, striking the other vehicle in the driver's side rear bumper.
• State police said an Avondale man, Brian Shore, 45, assaulted a woman following an argument on Dec. 28. According to the report, Shore pushed and strangled the victim. Police gave no other details.
Southern Chester County Regional Police Department
Regina B. Toto, 35, of Avondale, was charged with violations of the Controlled Substance, Drug, Device, and Cosmetic Act after a family member alerted police to illegal drugs and contraband found in her bedroom. The incident occurred on Jan. 30 at 11:15 a.m., in the 9000 block of Gap Newport Pike, in New Garden Township. A family member doing work at the residence heard a loud bang come from Toto's bedroom. When he opened the door to investigate, he discovered that her dog had knocked over a piece of furniture, causing a black colored box safe to fall and open. After observing drug paraphernalia inside the box and on the floor, he contacted police. Upon arrival, he exited the residence with the box safe and showed police the contents. Inside were more than 100 blue colored, stamped wax papers, commonly used for packaging heroin, as well as numerous other items of related drug paraphernalia. These items, as well as two vessels containing a white powdery substance, were seized and the suspected controlled substances were sent to the lab for analysis.
See Contributors Page http://chaddsfordlive.com/writers/
Comments
comments