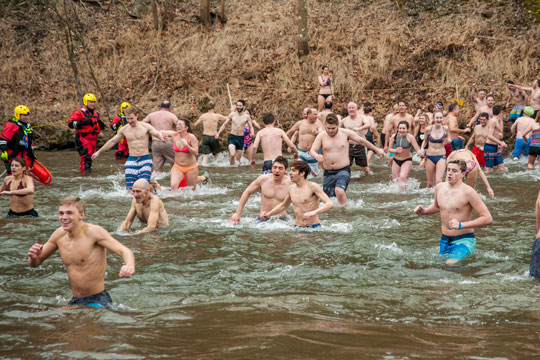 An estimated 250 people jumped into a 38-degree Brandywine Creek Saturday to benefit the Brandywine Red Clay Alliance. It was the 10th Polar Plunge, the organization's largest fundraiser. BRC Executive Director Jim Jordan said the event brought in $164,000 during its first nine years.
"This event sets the tone, it's the barometer for the rest of the year for much-needed funds," Jordan said. "The money goes to our education programs and watershed restoration efforts."
Jordan said the educational aspect of the group consists of classes and a summer camp. The mission is to get kids outside, to open the door to the natural environment, instead of being in front of a computer screen all day.
"There's a basic disconnect between today's youth and the outdoors. Our education program is about meeting state standards, so our school programs compliment what they're doing in school with their curriculum," he said.
Summer camp, while still educational, has another focus. "It's all about having fun while hoping they learn something along the way. A lot of kids don't have that opportunity, so we make one promise, that every child goes home wet and muddy every day."
There are also member programs that teach kids and adults about the natural wildlife, the flora and fauna of the Brandywine. But the alliance is working to keep the Brandywine and Red Clay watersheds clean because they provide drinking water downstream.
"The water we're going to be plunging in today, in 48 hours will be coming out of someone's tap in Wilmington," Jordan said.
While the event provides funds for the alliance's various programs, it's also a fun event for plungers, hosts and sponsors. The Longwood Rotary is one of the major sponsors of the plunge. Chapter President Lenny Rivera made a bet with fellow Rotarian Theresa Sheehan, a New England Patriot's fan. Because the Eagles beat the Patriots in the Super Bowl, Rivera said Sheehan had to plunge while he didn't.
Rivera and Sheehan, along with plunge emcee and Unionville-Chadds Ford School District Superintendent John Sanville — who was wearing an Eagles jersey with number 82 in honor of former Eagle Mike Quick — led the crowd in "Fly Eagles Fly," the Eagles fight song before the plunge.
There was also a bonfire and dancing before and after the plunge, as well as a costume contest and a favorite dog contest.

Rich Schwartzman has been reporting on events in the greater Chadds Ford area since September 2001 when he became the founding editor of The Chadds Ford Post. In April 2009 he became managing editor of ChaddsFordLive. He is also an award-winning photographer.
Comments
comments