Pennsylvania State Police
• Identities were not released, but state police from the Media barracks said two 22-year-olds, a man and a woman, both from Oxford, stole more than$1,700 from the Target store in Concord Township.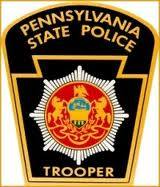 • In a separate theft investigation at Target, state police discovered an employee had stolen baby formula and toys from the store.
• Police identified the victim of a fatal car crash in East Marlborough as Juan José Manuel Clemente. A report said Clemente, 31, struck a tree on Longview Lane at 12:23 a.m. on Jan. 27.
• State police from the Media barracks said harassment charges were filed against a 19-year-old male after he allegedly bothered and annoyed a female supervisor repeatedly over a period of months. According to the report, the accused constantly yelled in her direction and failed to obey any and all commands.
• Police said Timothy P. Yancy, 33, of Newark, was cited following a two-car accident on Route 202 in Concord Township on Jan. 9. According to the report, Yancy was driving north in the right lane of Route 202 approaching Cornerstone Road, but made an improper lane change and sideswiped a vehicle in the left lane. Both cars were towed from the scene but neither driver was injured, police said.
• On Jan. 20, between 2:45 and 3 p.m., someone broke into a Jeep Grand Cherokee at the Newlin Grist Mill and stole a purse containing three credit cards from under the driver's seat. Police reported no fraudulent activity with the cards.
• State police from the Avondale barracks said an individual who was driving under the influence on Route 1 near North Mill Road in Kennett Township was taken to Jennersville Hospital for injuries. Police did not identify the person or provide details of the crash. The accident happened 5:14 p.m. on Jan. 17.
• Kristin A. Busch, 29, of Coatesville was reportedly injured and cited after a one-car accident on Doe Run Road in West Marlborough Township on Jan. 24. State police said Busch was driving north on Doe Run shortly after noon when she lost control of the Honda Accord after negotiating a left-hand curve south of Dupont Road. The car went into a yaw spin, slid off the right side of the road and rolled over into a ditch before coming to rest on its roof. Police said she was not wearing her seatbelt and had to be taken to Brandywine Hospital for treatment of injuries.
• Police arrested an unidentified 59-year-old man from Kennett Square on DUI charges following a traffic stop on Route 1 and Fairville road in Pennsbury Township on Jan. 14.
• Police accused two people from Delaware — Mark Luis Catamusto, 42, and Britney Anne Friend, 30 — both of Newark, of ripping off an elderly couple from Pennsbury Township last November. The report said the suspects entered the victims' home as contractors and stole multiple items. The victims are an 82-year-old man and a 73-year-old woman.
• A Concord Township woman was victimized when she received a bad check after providing countertop installation in East Marlborough Township, police said. According to a report, the victim received a check for almost $1,600 but was later notified by the bank that there was no checking account with that number. The incident happened Nov. 11.
See Contributors Page http://chaddsfordlive.com/writers/
Comments
comments