Pennsylvania State Police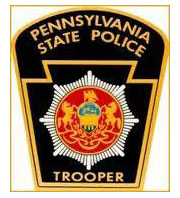 • State police from the Media barracks have accused Charles Proctor Latane, 61, of Upper Darby, with aggravated assault after he became combative with troopers who were assisting a motorist. According to the report, the troopers stopped to aid a motorist who was walking into traffic. Latane became combative, and one trooper received a minor laceration. The report said police found a fixed-blade knife in Latane's possession. The suspect was taken to Crozer-Chester Medical Center for psychological evaluation, and the trooper was treated at Riddle Hospital. The incident happened Dec. 30 at 11:56 a.m.
• Police said an unidentified male stole a carton of cigarettes from the Walmart in East Marlborough Township on Jan. 11 at 10:45 p.m. The suspect is described only as a white male with dark blond/light brown hair and wearing blue jeans, gray shoes, black shirt and an unzipped gray hooded sweatshirt with the hood up.
• State police are investigating a home burglary that took place in Pocopson Township on Jan. 8. According to a report, someone removed cash from a residence on Beversrede Trail sometime between 7 a.m. and 2 p.m. Anyone with information is asked to phone police at 610-268-2022 or call Pennsylvania Crime Stoppers at 1-800-4PA-TIPS.
• State police cited 59-year-old Joyce L. Carroll, of Chadds Ford, for her involvement in a two-vehicle crash on Jan. 2 in Concord Township. A report said Carrol was traveling on Franklin Drive approaching Brinton Lake Road at 3:55 p.m. when she turned left into the path of an oncoming vehicle. Police reported no injuries.
• Someone stole approximately $300 in cash from Nudy's Café in Chadds Ford during the overnight hours of Jan. 12-13. Police said the unknown suspect, who was dressed all in black, broke into the restaurant through a rear window. Police are investigating.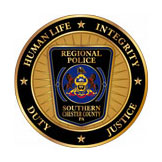 Southern Chester County Regional Police Department
• Christopher J. Gracie, 30, of Kirkwood, was arrested and charged with DUI and a related traffic offense, as well as with violations of the Controlled Substance, Drug, Device, and Cosmetic Act following a traffic stop for erratic driving, police said. The incident occurred on Jan. 6 at 7:21 p.m. in the area of Gap Newport Pike and Crossan Lane, in New Garden Township. Police said they observed the vehicle swerve into the opposite lane of travel and initiated a traffic stop.
• According to Southern Chester County Regional Police, Stephanie L. Lake, 50, of West Grove, was arrested and charged with DUI and a traffic offense, after the Nissan SUV she was operating was stopped for not having its headlights on. The incident occurred 10:02 p.m. on Jan. 6, in the 800 block of Newark Road, New Garden Township. Police said they observed indicators suggesting intoxication. Field sobriety tests were not attempted due to the extremely cold temperature, but a preliminary breath test confirmed the presence of alcohol, the report said.
• Noemi Borreli, 24, of Newark, was arrested and charged with DUI and related traffic offenses, after the 2016 Kia she was driving was stopped for erratic driving. The incident occurred at 2:40 a.m. on Jan. 7 in the 500 block of Newark Road, in New Garden Township. Borreli reportedly drove through a steady red light, at the intersection of Newark Road and Gap Newport Pike. The vehicle continued south on Newark Road at a high rate of speed and went through the stop intersection at Starr Road, without stopping, police said.
See Contributors Page http://chaddsfordlive.com/writers/
Comments
comments