• Amber K. Sharp, 20, of Upper Chichester, was cited for following too closely following a Nov. 14 accident in Pennsbury Township, police said. According to the report, Sharp was traveling eastbound on Route 1 approaching Fairville Road. A vehicle in front of her was slowing for a red light. Sharp failed to stop in time before striking the other vehicle, police said. No injuries were reported.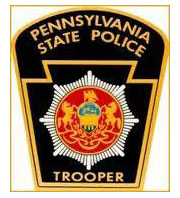 • State police from the Avondale barracks said Brooke Mietaralynn Sinko, 23, of Newark, was taken into custody for DUI on Nov. 19. A report said Sinko was driving on E. Baltimore Pike in Kennett Township at 2:20 a.m. when she was stopped.
Holiday Reminder
The Pennsylvania State Police would like to remind motorists to exercise safe and responsible driving. The Thanksgiving holiday brings with it an increase in vehicular traffic and the potential for traffic-related injuries and death. This holiday is the busiest day for travel and the members of the Pennsylvania State Police would like to see everyone get to their destinations safe and sound.
During the holiday period, which coincides with the national "Click it or Ticket" campaign, troopers who are certified as child passenger safety technicians will be offering their services at no cost. Pennsylvania State troopers will be at The Women's and Babies Hospital conducting child safety seat checks on Nov. 24 from 3 to 7 p.m. The address for the location is 690 Good Drive Lancaster, Pa. Troopers will be at the Avondale Fire Company at 23 Firehouse Way Avondale PA on Nov. 29 from 3 to 7 p.m. A third seat check will be held at the West Bradford Fire Company Substation located at 1385 Campus Drive in Downingtown on Nov. 29 from 2 to 6 p.m. You can have your new seat installed or have an existing child seat checked by a technician. A statewide list of locations and times of other car seat clinics is available at www.psp.pa.gov.
This year has been particularly bad for deadly crashes. Troop J, has investigated 24 fatal crashes as of this date, compared to 17 fatal crashes in 2016. To assist with keeping everyone safe, ensure that everyone in your vehicle uses the seatbelt for their seating position in the way it was designed. Pennsylvania Law requires children from 1-4 years of age to be properly secured in a child safety seat and children 4-8 years of age to be properly secured in a child booster seat. As of August 2016, Pennsylvania law changed to mandate that children 2 years and younger must be in a rear-facing car safety seat.
Do not drive under the influence of alcohol or drugs. If you have been drinking, have a designated driver who is not DUI operate your vehicle. Children and adults are injured or killed as a result of DUI each day within the Commonwealth and the number increases during holiday times. Motorists are also reminded to get the appropriate rest before venturing on holiday travels
Due to the increase in traffic on the highways during this and other holiday seasons, a focus will be placed on the enforcement of all traffic laws by members of The Pennsylvania State Police. Slow down and arrive alive.
See Contributors Page http://chaddsfordlive.com/writers/
Comments
comments