Celebrated West Chester artist Philip Jamison is the star of two important exhibitions this month, a retrospective show at Mala Galleria in Kennett Square, and his paintings are also featured significantly this Saturday in a live auction of the art collection of John L. Hall, at Chester County Art Association.  Possibly no other living artist today has played such an important role as Philip Jamison in the evolution of Chester County arts, as an artist, friend, mentor and collector.  Both art events bring attention to the beauty of Philip Jamison's paintings, and to his passion and dedication to the arts in Chester County that spans over seventy  years.
Philip Jamison's show at Mala Galleria located at 200 State Street in Kennett Square, opened  October 6 and continues through October 30th.  The show includes 35 original paintings by Philip Jamison as well as 14 wood sculptures by artist John Rush.  Originally Stella Scott, owner of Mala Galleria, had contacted John Rush for a solo show, and when Philip Jamison heard about the show he asked Stella to tell him when it was because he collected John Rush's work.  It turned out that John Rush is a huge fan of Mr. Jamison's artwork as well, and from their mutual admiration, the "Philip Jamison and John Rush Show" at Mala Galleria was born.  It is a huge treat to collectors to see the work of both artists displayed in this bright, beautiful show at Mala Galleria.
Philip Jamison is most known for his watercolors of wildflowers, daisies, and rural countryside scenes of Chester County and Vinalhaven, Maine.  He writes that "a painting without spirit is like flat beer!", so you will notice in his paintings, particularly his wonderful watercolors, a feeling of freshness, light, and a spirited delight in the images that he portrays.   In an earlier interview, Mr. Jamison commented "There is a real need in American art for the small intimate painting, one that people can relate to and reflect upon… one that is sensitive…and can be viewed over and over again."  Similarly to the artist Andrew Wyeth, Jamison often chooses an ordinary country scene to point attention to.  These are moments of quiet beauty, that he often couples with a vase of wildflowers that contain daisies. Lovingly choosing nature's most overlooked flowers to showcase in a vase, Mr. Jamison draws our attention to the subtle glimpses of beauty all around us, and gathers those images together for us on his canvases.
His work has been exhibited in many galleries and museums throughout the country, including The Metropolitan Museum of Art, the Philadelphia Museum of Art, and the Boston Museum of Fine Art.  Most recently, Mr. Jamison had a very successful solo show at Church Street Gallery in West Chester where most all of his paintings sold to various collectors.  If you have never before seen this artist's work, or if you are already a big admirer, this Mala Galleria show is a wonderful opportunity to collect his work and catch a glimpse into the world of this supremely talented and delightful artist.
Well known local wood sculptor John Rush shows his large and smaller sculptures alongside Mr. Jamison's paintings.  John is very excited to be showing at Mala Galleria this October, and writes, "Stella is amazing to say the least and I'm very excited not only to show at her gallery but to do a joint show with Phil Jamison. I met Phil in 2011 at one of my shows and wow what an experience that was. We went on to support each other in the arts and a friendship was forged. To me its kind a like I'm showing at the Met with Renoir or Picasso. This show is a very big deal for me because it's with some of the best of the best! "
John Rush works almost exclusively with wood, working "with the grain as well as the defects" to try and create beauty.  His subjects are "creatures.. human,  animal or otherwise and generally driven from some sort of experience that have or had. I consider it to be abstract."  Still very reasonable priced, John Rush's sculptures are very sensual but also often have a sense of humor too. His show with Philip Jamison is not-to-be-missed!
Besides being a painter, Philip Jamison is also a passionate art collector with an acute eye for new local talent. Over the years he has collected many of Pennsylvania's finest artists, often discovering them at their earliest shows. He is good friends with most of the major artists and collectors in Chester County, and with sixty plus years of collecting experience, he has an unparalleled knowledge of the artistic history of area.  When one of his close friends, art collector John Hall died, the Hall collection suddenly came into the spotlight.  Artist John Suplee and Philip Jamison worked together with the Hall family and Chester County Art Association, to bring the Hall Collection to the Chester County Art Association this month for an exhibition and art auction this weekend.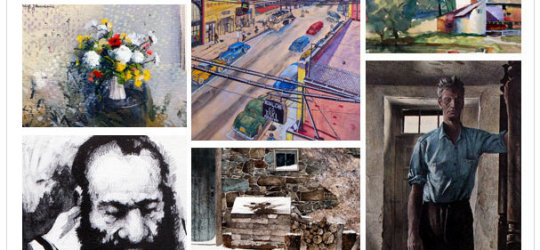 "The John L. Hall Sr., Marion D. Hall & Bonnie L. Hall Collection" exhibition runs September 30 - October 28, and this Saturday October 28 at 5 p.m. there will be a live auction of the contents of the show. Major artists in the Hall Collection include, Andrew Wyeth, Peter Sculthrope, Barclay Rubicam, and Philip Jamison.  Those that wish to bid on the artworks may do so over the phone or in person at the auction.  A portion of the proceeds from the auction will go to Chester County Art Association, to help that organization continue in its efforts to promote the arts in Chester County.
Also this week, sign up for two lectures that accompany the Chester County Art Associations 1960's "Art of Change" exhibition.  Tuesday October 24 from 5:30 to 7:30 p.m. is "Summer of Love & Music" which features the original rock promotion posters made famous in the 1960s, with experts Richard Chalfont, Steve Johnson and Peter Quarracino.
This Thursday, October 26th from 5:30 to 7:30 the discussion topic is "Knoll: Defining Modern" with insider's look at the artistic legacy of Florence Knoll, with guest speaker Linda Kasper.  To learn more details about the Hall Collection auction, as well as about the other Chester County Art Association happenings, check out their website at www.chestercountyarts.org.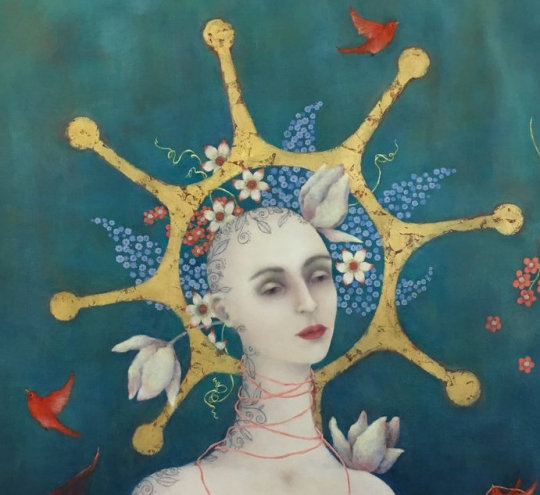 Other fun art events this weekend include a solo pop up show by artist Rachel Romano at Galer Estate Winery, 700 Folly Hill Road in Kennett Square on Sunday October 29. Fresh from an artistic journey of a month in Italy at an artist's retreat, I can't wait to see what Rachel's imagination has created!
Make sure to listen to Art Watch Radio on station WCHE am 1520 every Wednesday from 1-1:30 as various art hosts chat with local artists and art lovers about art in our area. For past free podcasts of Art Watch Radio, go to www.lelegaler.com.

Lele Galer is an artist who has chaired numerous art shows, taught art history and studio art, public art and has chaired, written and taught the Art in Action Art Appreciation series for the UCFD schools for the past 12 years. She worked at the Metropolitan Museum of Art, and wrote for the Associated Press in Rome. She has been dedicated to Art History and art education for most of her adult life. Lele and her husband Brad own Galer Estate Winery in Kennett Square.
Comments
comments