• A police report did not include full details but did say there were injuries in a three-vehicle accident at Route 202 and Ridge Road on Oct. 12. State police did say that a school bus was turning left onto Ridge Road when it hit the curb. The driver overcorrected and rebounded across the lane into oncoming traffic. The bus then struck the driver's side of a Ford Fusion and then struck a pickup truck. The report did not mention any charges, nor the drivers' names. (See photo above. The image is courtesy of Chadds Ford resident Valerie Ohler.)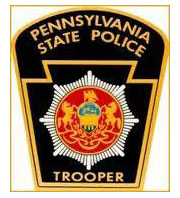 • A 47-year-old Concord Township man was the victim of identity theft. State police said the victim told them that someone hacked his email address and that bank account and credit card information compromised. The unknown suspect tried opening a credit card account with the stolen information but was declined. The theft took place sometime within the first two weeks of September.
• Police said they arrested an unidentified 19-year-old man for possession of marijuana with the intent to distribute. A report said the arrest was made Oct. 1 in the 1400 block of Baltimore Pike in Chadds Ford Township. Police stopped the suspect for a traffic violation, the report said.
• Police said they arrested a 34-year-old man from West Chester for DUI in Chadds Ford Township on Oct. 6. The report did not include the driver's name or the specific location of the traffic stop.
• State police from the Avondale barracks said Mario Alberto Vilchis Valdez, 32, of Wilmington, was arrested for DUI following a Sept. 1 traffic stop on Newark Road near Baltimore Pike in New Garden Township. No other details were released.
• An unidentified 20-year-old woman was arrested for retail theft at the East Marlborough Township Walmart on Oct. 13. A state policed report said the woman stole Sylvania headlights.
• State police are looking for two unidentified people in connection with a Sept. 21 theft at the Walmart in East Marlborough Township. Police said a woman took an LED television and clothing from the store without paying for the items. Store employees stopped her, but she was able to flee in a stolen car driven by an unknown man. The car had been reported stolen from Chester; it was recovered the following day in Delaware.
• Dentist Maaen Aboafch, 37, of Kennett Square, was charged with indecent assault and harassment, following an incident that occurred on Sept. 6, at New Garden Family Dentistry in New Garden Township, according to a report from Southern Chester County police. Aboafch, who practices under the name of Michael Afash, is accused of having indecent contact with a 21-year-old female, during a job interview/dental examination. He was arrested on Oct. 11, the report said.
See Contributors Page http://chaddsfordlive.com/writers/
Comments
comments