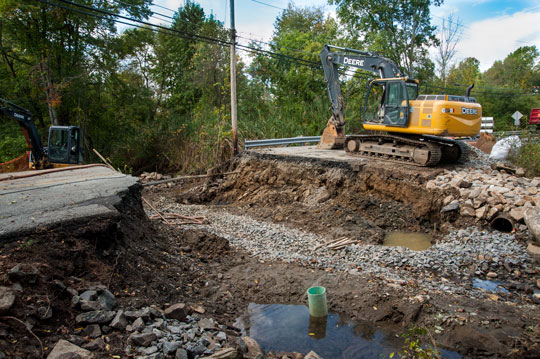 • Heyburn Road, between Route 1 and Ridge Road, remains closed to through traffic as work continues to install a new culvert. The culvert failed, and the roadway collapsed this summer. Work is expected to take another three to four weeks, weather permitting. (See photo above.)
• Families are invited for early access to the Brandywine River Museum of Art on Saturday, Oct. 14, from 8:30 to 10 a.m., during "PECO Sensory-Friendly Saturday." This accessible program is designed specifically for visitors on the autism spectrum or with sensory processing disorders. "PECO Sensory-Friendly Saturday" is an inclusive program that strives to provide a welcoming experience through pre-visit materials, special gallery activities, and sensory break areas. A variety of creative art projects will also be offered throughout the program, including watercolor and sculpting activities.
• It's "March on the Brandywine" Saturday, Oct. 21 from 6-10 p.m. at Unionville High School. March on the Brandywine is a marching band competition featuring bands from 11 schools in the region. Tickets are $12 for adults, $8 for students and seniors, free for ages 5 and under. For a list of schools and their performance times, go to http://cavalcadeofbands.com/wp-content/uploads/2017/08/17-Unionville-Marching.xls-1.pdf
• Longwood Fire Co.'s annual open house is this Sunday, Oct. 15, from noon to 3 p.m. There will be tours of the station, a chance to meet EMS personnel and a helicopter landing. The station is located at 1001 East Baltimore Pike.
• Concord Township, Delaware County is seeking eligible candidates to fill a vacancy of office on Township Council. Interested individuals must be an elector of the Township and have resided in the Township for at least two years. Candidates should submit a personal statement of qualification and a resume to Amanda Serock, Township Manager, via email at aserock@concordtownship.org by noon on Oct. 17 for consideration by Council. For further information, please visit www.townshipofconcord.com.
• The Chester County Arts Association is offering a series of five lectures dealing with 1960s-era America. The first lecture, on Tuesday, Oct. 17 is the Vietnam War. "Voices from the Vietnam War Era: An informed community discussion about America's involvement in Southeast Asia" presents a variety of perspectives about the war. The discussion will explore the political, military and the human dimensions of a war that forever changed the way Americans thought about themselves and their place in the world. Doors open at 5:30 p.m. and the lecture runs from 6-7:30 p.m. For ticket information, go to https://public.chestercountyarts.org/public/PurchaseTickets.faces, or phone 610-696-5600.
• The Great Pumpkin Carve is next week. The annual event, a major fundraiser for the Chadds Ford Historical Society, runs from Thursday night, Oct. 19 through Saturday, Oct. 21. The actual carving is done Thursday, beginning at 5 p.m. Admission is $10 for adults, $5 for children 7-17 and free for kids 6 and younger. Friday – 5 p.m. to 9 p.m. Saturday – 3 p.m. to 9 p.m. See: http://www.chaddsfordhistory.org/events/great-pumpkin- carve/
• Longwood Gardens President, and CEO, Paul B. Redman was recognized as a Distinguished Alumni of Oklahoma State University. The University's Division of Agricultural Sciences and Natural Resources recognized Redman as a "shining example of sustained excellence" in his field. Redman earned both his bachelor's and master's degrees in horticulture from OSU in 1990 and 1994, respectively. After serving as Executive Director at Franklin Park Conservatory in Columbus, Ohio, Redman joined Longwood Gardens in 2004.
• The Concord Township Harvest Festival is Saturday, Oct. 28 at the Park and Recreation facility, 40 Bethel Road. The day begins with a baked goods contest drop-off between 9 and 11 a.m. The Dog Costume Contest is at noon. The entire festival runs from 1-4 p.m. with a Children's Costume Parade at 1:30.
See Contributors Page http://chaddsfordlive.com/writers/
Comments
comments