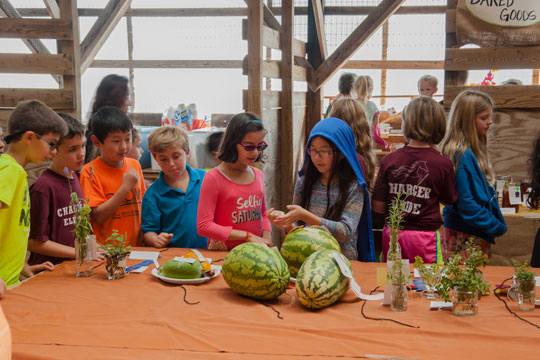 The 93rd annual Unionville Community Fair is underway and runs through Sunday, Oct. 8. It's held at the Willowdale Steeplechase property at Routes 926 and 82, behind the Landhope Farm convenience store.
The fair is a holdover to an earlier era when the Unionville-Chadds Ford School District was mostly a farm community. The early contestants were high school students showing off their produce.
According to the fair history, it began in 1924. Teacher John Corman got things started with the help of the Vocational-Agricultural boys and a committee made up of local granges. There were only four tables of produce on display at the time, and it was more of a corn show than anything else.
A flu outbreak canceled the fair in 1931, and it was canceled again in 1942 because of WWII. Even though the war was still going on, the fair resumed a year later as part of the "Food for Victory" call.
On Friday, students from all four elementary school students toured the grounds with their classes, but without the general public. They listened to music, carved pumpkins, learned how to make candles and had the chance to pet a llama.
For the schedule for rest of the weekend, go here. http://www.ucfair.org/2017-schedule.html
See Contributors Page http://chaddsfordlive.com/writers/
Comments
comments