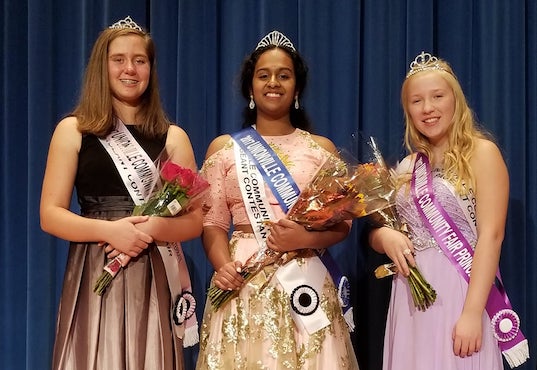 The 93rd annual Unionville Community Fair is this weekend, Friday through Sunday, Oct. 6,7 and 8.
The new fair queen, center (see photo above), is Vashika Mandalapu. She is flanked on her right by the new Fair Princess Lauren Chamberlain and on her left by Fair Princess Alternate Olivia Mitchell.
The winners were chosen during a fair pageant Thursday evening, Sept. 28. Winners received scholarship money in the amount of The Queen $500 for the queen, $100 for princess $50 for princess alternate.
The fair began as a simple corn show with young farmers showing off their various harvests. It grew and morphed into, what is now, one of 114 county fairs in the state and one of three in Chester County.
The Unionville Community Fair and Farm Show has the largest display of community agricultural and home products, handcrafts and arts in Chester County Pennsylvania. As a member of the Pennsylvania State Association of County Fairs. Most exhibitors are local residents competing for ribbons and awards as they are judged by PSACF guidelines. From livestock shows to local food, live music and a rodeo, you can get a first-hand look at agriculture at the annual Unionville Community Fair.
See Contributors Page http://chaddsfordlive.com/writers/
Comments
comments