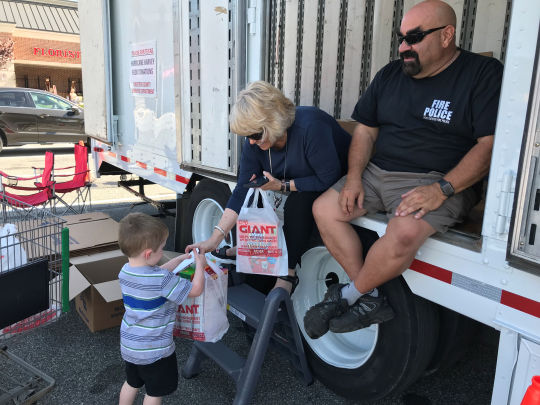 The local road warriors who orchestrated a large relief effort for Hurricane Harvey victims hadn't even entered the state of Texas with 68,000 pounds of donated supplies before receiving a flood of new questions: What about Florida?
Ron Giacinto, a captain with the West Chester Fire Police and a volunteer at Good Will Fire Company No. 2, said he knew before arriving in San Patricio County, Texas, that another long-distance trip might materialize, and on Thursday, Sept. 21, he opened a second tractor-trailer for donations to Hurricane Irma victims.
The encore relief effort took shape after Chester County Sheriff Carolyn "Bunny" Welsh reached out to her national sheriff connections.  She said the Texas initiative worked well because it had a "sheriff-to-sheriff" component.
"We were able to assure the donors that it would be a safe transport and a successful delivery of the food and supplies to those in need," Welsh said. "It was extremely important that we had a storage/warehouse facility available, and most important, a method of distribution. In Texas, church volunteers assisted in delivering truckloads of supplies to those who could not get to the distribution center."
Welsh said that after a couple of conversations with Sheriff Rick Ramsay, who oversees the Florida Keys, she felt confident that the same process could be duplicated in the Sunshine State. Moreover, the need was substantial.
She said when she asked Ramsay for a list of needed supplies, he paused. "A lot of people lost everything," he told her. "Anything would be appreciated."
In the meantime, Giacinto said Paul Firpo of Firpo-Heritage Moving Systems in Aston volunteered a truck and a driver. "He was amazing," Giacinto said. "We couldn't do this without a way to get things there."
Giacinto said Firpo planned to fill part of the truck with 23,000 pounds of water, leaving the rest for additional donations. "If you fill it, I'll give you another one," Firpo told Giacinto.
As before, area residents are invited to help fill the truck at the Giant grocery store in Dilworthtown. Volunteers will be on site to take donations from approximately 9 a.m. to 7 p.m., Giacinto said.
Recommended items include non-perishable food, such as granola bars, boxed milk, and canned goods; paper products; trash bags; toiletries, such as shampoo and toothpaste; baby food and supplies, such as wipes and diapers; flashlights; and cleaning supplies. Clothing cannot be accepted.
Welsh said that other agencies would be welcome to organize their own collections and bring the donations to the truck. She said the Sheriff's Office would have limited availability to pick up bulk supplies; any groups who need to arrange for delivery should call the office at 610-344-6860.
"The Keys have been demolished," said Welsh. "Residents in Texas were so appreciative of the efforts from Chester County. I'm hoping the county will respond in the same manner to the needs in the Florida Keys."

Comments
comments