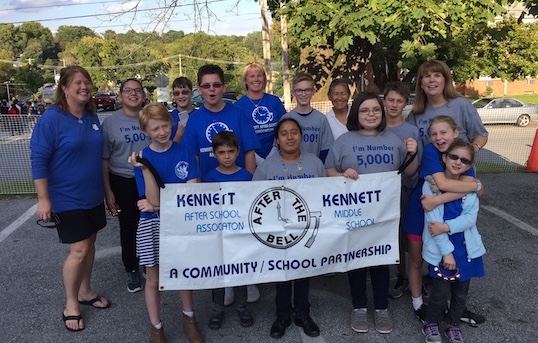 The local Kennett Square community is invited to join in the fun of After-The-Bell at the After-The-Bell Block Party on Thursday, Sept. 21 from 6-9 p.m. Held in conjunction with Kennett Square's Third Thursday celebration, the party will take place on Broad Street and Apple Alley, one block south of State Street.
After-The-Bell has provided meaningful, exciting and educational activities to more than 5,000 students since it was founded in 1998. Community members attending the Block Party, including families and individuals of all ages, will have the opportunity to share the After-The-Bell experience by participating in such popular ATB activities as:
Sweet Shop – Decorating cupcakes and cookies;
Arts & Crafts – Painting Pumpkins;
Outdoor Fun & Games – Corn Hole Toss;
Martial Arts – With a Black Belt-level instructor;
Eat Fresh – Creating fun and delicious concoctions with fresh fruit;
Anchor Fitness – Get in Shape.
All activities listed above are offered free to the public. In addition, Kennett Design will host a Paint-for-Fun fundraiser at the block party providing opportunities to paint beautiful pictures on canvas, with a portion of proceeds donated to After-The-Bell. Those interested in signing up for Paint for Fun should register online at www.kdpaint.party/atb0921.
The Kennett Brew Company will have food and drink available for purchase at the Block Party.
The event is being co-hosted by Holly Peters Oriental Rugs, Anchor Fitness, and the Kennett Brew Company.
For more information, please contact the After-The-Bell office at 610-268-5889.

Comments
comments