• Visit historic Newlin Grist Mill Saturday, Sept. 16, from 10 a.m. to 3 p.m. for a day of archaeology fun with the annual Archaeology Festival, held in partnership with the Delaware County Planning Department. Discover the rich archaeological heritage that lies beneath our feet by assisting professional archaeologists with excavation and cleaning the artifacts we find. The festival will also feature displays of local archaeology projects, Native American tool making and cooking, ground penetrating radar demonstrations; Native American cooking by the Time Chef, Henry Ward; and an archaeology-themed escape room by Xscape the Room. A food vendor will be onsite during the day, as well. Excavations are under the leadership of professional archaeologist Keith Doms. Admission and parking are free for this event. For more information, visit www.newlingristmill.org or call the site at 610-459-2359.
• State Rep. Eric Roe, R-158, will host a Senior Expo at C.F. Patton idle School from 9 a.m. to noon on Saturday, Sept. 16. Visitors will have the opportunity to visit with more than 40 local, state and federal agencies and businesses offering information about programs and services available to them.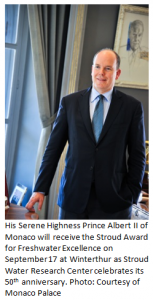 • On the eve of Stroud Water Research Center's 50th anniversary, the 2017 Stroud Award for Freshwater Excellence will be presented to His Serene Highness Prince Albert II of Monaco at The Water's Edge, the Stroud Center's premier fundraising gala, on Sunday, Sept. 17. Wilmington Trust is the presenting sponsor of the event, which will take place in Delaware, at Winterthur, the childhood home of collector and horticulturist Henry Francis du Pont. Prince Albert will be recognized for his commitment to freshwater resources through the Prince Albert II of Monaco Foundation. Though geographically small, Monaco is globally significant, and the Prince has used his worldly influence to promote bold environmental and ecological ideals. Visit www.stroudcenter.org/events to purchase tickets for The Water's Edge, sponsored by Wilmington Trust, or another upcoming event.
• The Kennett Area Senior Center is hosting a special movie presentation, "Free Spirits – Saving America's Wild Horses" – narrated by Robert Tree Cody and directed by Joseph Piner – on Thursday, Sept. 21, at 1 p.m. This film tells the story of the survival of wild mustangs in the Western United States. Come see this amazing film and join us for a Meet & Greet with the director. Joe will tell us about how he gathered footage and emotional interviews to bring about public awareness of the wild horse's treatment and management. Kennett Area Senior Center is located at 427 S. Walnut Street, Kennett Square, PA 19348. To RSVP, call 610-444-4819 or email Andrea Durynski at adurynski@kennettseniorcenter.org. Spread the word to all your fellow horse enthusiasts.
• Auburn Heights Invitational Historic Automobile Display, a fundraiser to benefit the Marshall Steam Museum, will be held from 12:30 to 4:30 p.m., Sunday, Sept. 24 at Auburn Heights Preserve, 3000 Creek Road, in Hockessin. Admission includes tours of the beautiful Queen Anne–style Marshall home, entry to the Marshall Steam Museum (which houses the world's largest operating collection of Stanley steam cars), free steam-popped popcorn from the museum's vintage Cretors popper, and more. A silent auction & raffle with unique and extraordinary items round out the day's activities. Advance tickets are $20 ages 16 and up, $14 under 15 (infants free), $25 at the gate. Advance tickets are on sale now and may be purchased online at AuburnHeights.org, via phone from the F.A.H.P. office (302-239-2385), or in person from the Country Butcher Market in Kennett Square (with proceeds from the Country Butcher sales supporting the Joseph Boxler Education Fund at Auburn Heights). MasterCard, Visa and Discover are accepted.
• Winterthur Museum, Garden & Library introduces its Eye on the Iconic exhibition series, which will explore a single iconic object. The inaugural Eye on the Iconic exhibition, Royal Splendor: The Coronation Gown from The Crown, will feature the replica of Queen Elizabeth II's coronation dress worn by Claire Foy in the Netflix series The Crown and will examine what makes an object iconic—something that is widely recognized and of note. Opening Oct. 20, the dress will be on view through Jan. 7. The exhibition also considers the significance of the replica as an icon or representation of the original and why it and other objects are made to celebrate a monarch.
• Explore the scenery, glimpse the history, and discover the lure of the Brandywine Creek on the second annual Bike the Brandywine on Saturday, Sept. 30. Hosted by the Brandywine Conservancy & Museum of Art during its 50th anniversary year of celebrations, this year's Bike the Brandywine will offer three routes that take in the beautiful Brandywine Creek Greenway and surrounding countryside. Riders can choose from distances of 25, 50, and 100 miles, each with a unique and thrilling experience for both the recreational and more avid seasoned cyclist. Proceeds from the ride benefit the Brandywine Conservancy's clean water programs. Each loop starts and ends at the Chadds Ford Historical Society, 1736 N. Creek Road in Chadds Ford. The event takes place rain or shine, from 6:30 a.m. to 4:30 p.m. Advance registration is $50 per rider, but the fee will increase closer to the date of the event. Register online at www.brandywine.org/bikeride.
•  Live lizards are featured this fall in Delaware Museum of Natural History's newest special exhibit, Here Be Dragons, exploring real and mythical dragons. The exhibit opens Saturday, Sept. 30, and runs through Sunday, Jan. 7, 2018. The exhibit is split into three dragon realms: Medieval, Asian, and Paleontology, each with a colorful and intricately designed set such as a fire-breathing dragon poking his head out of a castle. It features 15 real-life lizards from 10 species. Admission is $9 for ages 3-59, $8 for seniors ages 60 and up, $3 for toddlers ages 1-2, free for babies younger than 12 months. Free admission for DMNH members.
• The Friends Folk Club will present a rare area appearance by Texas singer songwriter Tish Hinojosa on Friday, Oct. 13. From Austin, Texas, Hinojosa's blend of folk, country, Latino, and pop has garnered accolades and a White House concert at the invitation of President and Mrs. Clinton and teaming up with artists such as Joan Baez, Booker T. Jones, Flaco Jimenez, Pete Seeger, and Dwight Yoakam. The Oxford Friends Meeting is a century old Quaker Meetinghouse with great acoustics, no bad seats. Tickets are $15 and will be available at the door. Children 12 and under are free. Refreshments are available at a reasonable price. Doors will open at 7 p.m., and concert will start at 7:30. The Oxford Meetinghouse is located at 260 S. 3rd St, Oxford, PA. For more information call: 610-869-8076. Email: friendsfolkclub@aol.com or http://www.mundotish.com/
See Contributors Page http://chaddsfordlive.com/writers/
Comments
comments