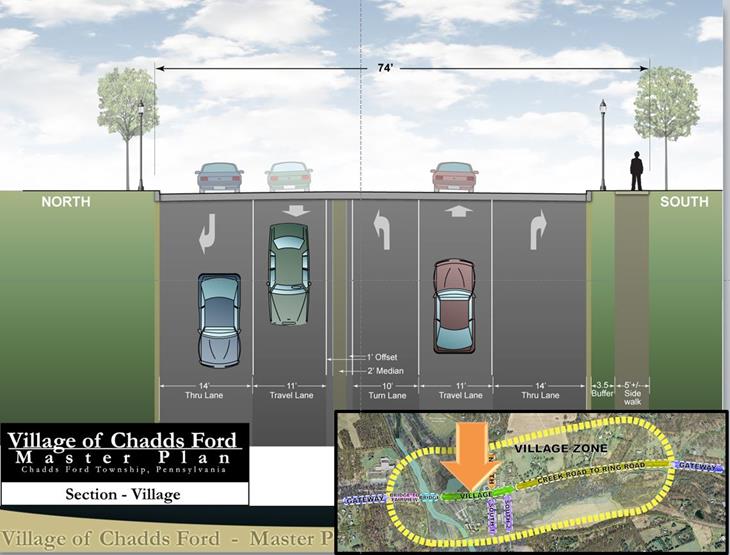 While Chadds Ford Township might not need a letter of support from Pennsbury Township supervisors, at least one of those supervisors said he could support the project.
Supervisor Aaron McIntyre said he likes what he heard from Peter Simone, of Simone Collins, the consultant on the Walkable Chadds Ford project. Simone addressed the Pennsbury Board of Supervisors on the matter during the board's Aug. 16 meeting.
"I like the idea," McIntyre said after the presentation. "I like the idea, the trails, the beautification." He added, however, "But the devil's in the details."
Simone said that a grant Chadds Ford would likely apply for on Sept. 22 doesn't require support from other municipalities, but it would be better to have such support should Chadds Ford apply for other grants.
During the presentation, Simone discussed Phase I of the project, which includes a pedestrian crossing on Route 1 at Ring Road, a trail running parallel to Route 1 from Ring Road down to S. Creek Road, across S. Creek to Hoffman's Mill Road on Brandywine Conservancy property.
In addition to the pedestrian crossing and the trail, Phase I would also include two landscaped islands in the middle of Route 1, one on each side of the Brandywine Creek, one in Chadds Ford and the other in Pennsbury.
McIntyre was curious about who would maintain the landscaping.
Simone said that would likely be Chadds Ford, but the townships would work that out later. He did say that PennDOT would not maintain the islands. Maintenance costs could run $10,000 per year or more, he added.
The first grant Chadds Ford would apply for, he said, is a Transportation Alternative Set Aside Program, or TAP grant, for $1.2 million. But the total cost for Phase I, he estimated, would be about $1.8 million to $2.2 million.
Again, McIntyre asked what commitment Pennsbury might face, but Simone said there would be none.
"I want to see details," McIntyre said, "but I can support this."
Only two of the three supervisors attended the meeting and no vote was taken and no decision made. No Chadds Ford supervisor or representative for Chadds Ford Township attended.
The second phase of Walkable Chadds Ford would include constructing a pedestrian and bicycle path over the creek on the south side of Route 1 down to Fairville Road, a second pedestrian crossing on Route 1 at N. Creek Road and a boardwalk and path between Hank's Place and the Chadds Ford Historical Society property. The entire project would cost about $3 million.
If all goes smoothly, Simone estimated construction could start by the spring of 2020 and finish by that fall or possibly the spring of 2021.

Rich Schwartzman has been reporting on events in the greater Chadds Ford area since September 2001 when he became the founding editor of The Chadds Ford Post. In April 2009 he became managing editor of ChaddsFordLive. He is also an award-winning photographer.
Comments
comments