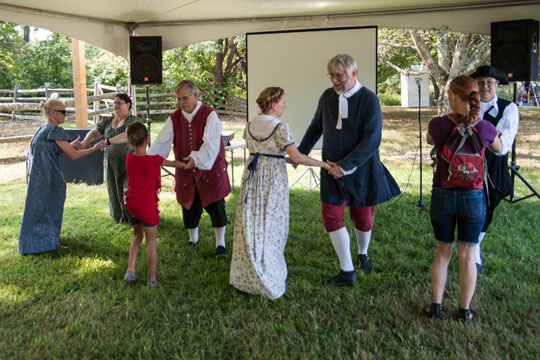 The Chadds Ford Historical Society is hosting the 52nd annual Chadds Ford Days festival the weekend of Sept. 9 and 10. This family- and dog-friendly event commemorates the Battle of the Brandywine that took place on Sept. 11, 1777. The event runs from 10 a.m. – 7 p.m. on Saturday and 10 a.m. – 5 p.m. on Sunday.
Chadds Ford Days includes over 50 of the area's finest artisans and demonstrators, and offers something for everyone including a "Maker's Marketplace" for purchasing unique, handmade items, and colonial demonstrator stations where you can learn about a traditional craft like blacksmithing, lace-making or woodturning. You can try colonial dancing and learn how our ancestors socialized and flirted in the 1700s. You'll also meet Gen. George Washington and Revolutionary War soldier Ned Hector, and tour an 18th-century military camp where you'll see cannons firing, muskets shooting and soldiers on maneuvers.
But's it not all about history. The event celebrates contemporary Chadds Ford too. The area's artistic legacy is honored at the festival as the Philadelphia Watercolor Society hosts a free plein air art show and sale in our Visitors Center. You can even meet some of the artists and watch them paint during the festival.
Seven local bands will provide continuous live music throughout the festival. The bands include local favorites like The Sermon, the Steve Liberace Band, Seven Rings and Marlboro Road playing jazz, rock, Irish, bluegrass, traditional and children's songs. While you're enjoying the music, you'll want to grab a bite to eat provided by one of our local restaurants, and relax in our tavern beer garden with offerings from Victory Brewing and Chadds Ford Winery. For younger children, there is a "Kid's Corner" with a variety of fun activities and games, and dog training demonstrations providing by Clover Dog Training.
You can see cooking demonstrations in the 1725 Chads House and tour the society's Barn Visitors Center where you can visit our museum store and see our current exhibit, Wanton Waste: Chadds Ford and the Battle of Brandywine.
One big change this year is that all food and beverage transactions will be made directly with the vendors rather than with pre-purchased tickets. No more waiting in two lines to get food and drinks.
Chadds Ford Days will be on the grounds of Chadds Ford Historical Society, 1736 N. Creek Road, Chadds Ford. Free parking is available adjacent to the festival grounds. Well-behaved dogs are welcome to atten but must be on a leash. Admission is $10 for adults 18 and older and free for children 17 and under. CFHS members are free with membership card. Visit our website at www.chaddsforddays.com for additional information.

See Contributors Page https://chaddsfordlive.com/writers/
Comments
comments