Delaware County credit union, BHCU, has donated a multi-device charging station to Rachel Kohl Library. The station will charge up to eight devices at a time, helping Rachel Kohl patrons with efficient and convenient charging technology.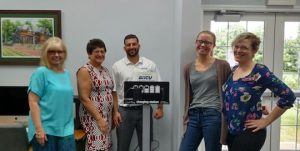 Rachel Kohl Library, a nonprofit, community library serving over 40,000 people continues their ongoing mission to celebrate the joys of reading, learning and leisure time in Western Delaware County. With the world becoming mobile reliant, BHCU's charging station donation will help keep library patrons connected.
"Rachel Kohl Community Library is thrilled to accept this generous donation from BHCU" said Susan Sternberg, Library Director. "As the nature of libraries change, so do the services we provide our patrons. This charging station will allow our patrons greater self-sufficiency as they use our resources. Further, this is a wonderful example of the library's interconnectedness with neighboring organizations and corporations."
Similarly, BHCU, a non-profit credit union, opened their second office in Glen Mills in June of 2015. At that time BHCU also became a community-chartered credit union serving all of Delaware County. BHCU continues to value the importance of local community support and commitment to giving back to Delaware County.
"This is a small token of appreciation to Rachel Kohl and the work that they do as we both continue our mission to support our local community. Creating these types of local partnerships that share a common goal of enriching our communities is what it's all about. It's our responsibility to help where we can and invest in the community we serve."

Comments
comments