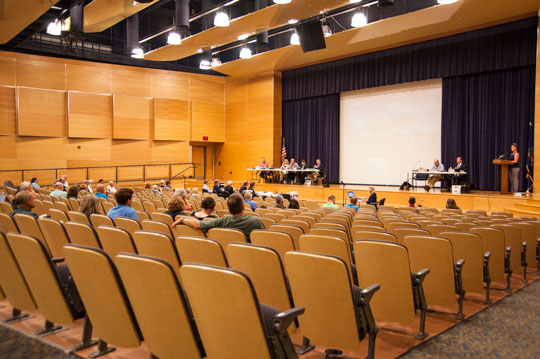 Testimony continued last night in the Toll Bros. conditional hearing for the proposed development of Crebilly Farm in Westtown Township, but the hearing was conducted before a crowd of empty seats.
An unofficial headcount indicated fewer than 100 people attended the session at the Rustin High School auditorium, a session that focused on testimony from two traffic engineers.
Nicole Kline, of McMahon Traffic Engineers & Planners, representing Toll, returned to finish her cross-examination. Supervisor Carol DeWolf questioned her on how township residents on the west side of Route 202 currently access northbound 202 and how they would do that after the development.
Kline responded that most currently use Route 926 and would continue to do so after the development.
She was also asked about queuing, or the length of a line of traffic, on southbound New Street as it approaches 926. Kline said the queuing now is about 1,400 feet (roughly 57 vehicles based on industry standards) during morning peak hours.
Also under questioning, Kline said there are no proposed changes that would affect current pedestrian and bicycle traffic.
She repeated some points previously made, that there is a proposed right in/right out access point directly along Route 202, but that Toll would consider abandoning that.
Other access points include two on W. Pleasant Grove Road and another on Route 926 to align with Bridlewood Boulevard.
Attorney Michael Gill, representing the Westtown Township Planning Commission, asked whether pedestrian connections or sidewalks are required. Kline said that would need to be evaluated. "We don't want to build sidewalks to nowhere," she said.
After Kline's cross-examination, Al Federico, of Kimley-Horn, testified as the township's traffic engineer. He said that based on a number of traffic- and road-related points, Toll has not yet met the conditions set forth by the Planning Commission.
Specifically, he said the plan does not show a proper connector road through the property as is required by the township's comprehensive plan and that the scope of improvements offered don't include turn lanes.
While there is a road planned through the development connecting W. Pleasant Grove Road with Route 926, Federico said it doesn't qualify as a connector road because it's not wide enough. He said the road should be 28 feet wide.
When questioned about the level of service at the main intersection of 926 and 202, Federico said the current level is rated "F" and it would still be that way after proposed improvements.
Under cross-examination from Toll attorney Gregg Adelman, Federico said that while the service level would still be an "F" after the improvements, delays through the intersection would be reduced.
Other improvements, as specified by PennDOT, include building a dedicated right turn lane on southbound 202 for motorists to turn west onto 926, and adding a second left turn lane on eastbound 926 for motorists wanting to go north onto 202.
Planning Commission conditions also include installing an additional right turn lane from Route 202 to W. Pleasant Grove Road, and a southbound left turn lane on Route 926 at S. New Street.
The hearing was continued until 6 p.m. Tuesday, Aug. 29 at Rustin High School.

Rich Schwartzman has been reporting on events in the greater Chadds Ford area since September 2001 when he became the founding editor of The Chadds Ford Post. In April 2009 he became managing editor of ChaddsFordLive. He is also an award-winning photographer.
Comments
comments