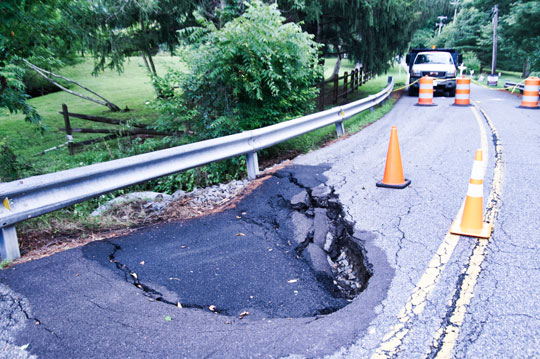 Heyburn Road in Chadds Ford Township remains closed today because of a culvert failure just south of Route 1. According to Township Manager Amanda Serock, the culvert under Heyburn Road failed and compromised the roadway. It's uncertain how long the road will be closed, she said in an email.
The need to repair the culvert has been discussed previously. Supervisors last year instructed Serock to work up a budget for the repair. The township also applied in September for a general permit with the Department of Environmental Protection to fix the culvert and the roadway.
"…but our application has still not been approved," Serock said. "The irony is that the township attempted to have this approved as an emergency permit back in the summer of 2016, and the DEP said it was not an emergency and that we needed to file a general permit application."
She added that the township has a contractor ready to do the work, but as yet, there's no word on time involved or cost for the project. Serock hopes to know more tomorrow, July 26.
"Once I can get the contractor in place we will have a detour plan for the area…The Board, myself and our professionals have been attempting for well over a year to fix this situation, but we can't do much without the approvals of the DEP with projects like this," Serock said.
While the northern portion of Heyburn is closed because of the culvert, the southern part of the street, between Ridge Road and Smithbridge Road was closed today because of downed tree resting on utility lines. PECO was notified.

Rich Schwartzman has been reporting on events in the greater Chadds Ford area since September 2001 when he became the founding editor of The Chadds Ford Post. In April 2009 he became managing editor of ChaddsFordLive. He is also an award-winning photographer.
Comments
comments