• State police said Pedro Grangler, 43, of Philadelphia, was arrested for DUI after a traffic stop in Concord Township on May 14. According to a report, Grangler had been stopped for "numerous traffic violations" on Route 322 at Garnet Mine Road when they determined him to be DUI.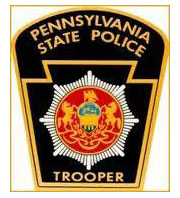 • Clifford Lee Hatfield Jr., 23, of Chester, was arrested for DUI and possession of marijuana at Routes 1 and 202 on May 9. Police said Hatfield had been stopped for traffic violations at 9:31 p.m.
• Police are investigating the attempted theft of a motor vehicle in Concord Township on May 8. A report said the unidentified suspect, described only as a white male between 30 and 40 years of age, was caught on camera opening the unlocked vehicle in the victim's driveway.
• On May 7, Robin Wilson, 29, of Chadds Ford, was arrested for DUI on Christy Drive in Chadds Ford, state police said.
• An unidentified man was arrested for indecent exposure at the Stoney Bank Wawa on May 2. Police said the man exposed himself to a female employee who was cleaning the men's bathroom at 7:11 a.m.
• Someone stole a bicycle that had been left unlocked on a porch in the 800 block of Baltimore Pike in Concord Township on May 3. Police said the theft happened sometime between midnight and 5 p.m.
• State police from the Media barracks are looking for the operator of a car who struck another car while backing into a parking spot, but then fled the scene without giving any information. The incident happened in the parking lot of Crozer Medical Plaza in Concord Township on May 1. A report said the driver first tried to park somewhere else and was seen doing so by a witness who informed security. Security personnel contacted the driver who failed to give information before fleeing. The suspect vehicle is described as a blue Ford Expedition with Pennsylvania tag KSL-6729.
• Aidan Joseph Gartner, 21, of Kennett Square, was arrested for DUI, according to state police from the Avondale barracks. A report said the arrest followed an April 30 one-vehicle accident on Hillendale Road in Pennsbury Township.
• Police are investigating a retail theft from the Gap store in Glen Eagle Shopping Center on April 20. The unknown suspect reportedly stole approximately $1,200 worth of men's shorts.
• Someone smashed a garage window and broke into a home in Pennsbury Township on April 13 and stole jewelry, a fireproof safe, cash, a jar of change, a passport, three birth certificates, two Apple iPads and a bedspread from the master bedroom. The thief also took an Apple MacBook from the office and more jewelry from a second bedroom.  The burglary took place sometime between 12:30 and 1:30 p.m.
• State police from the Avondale barracks said a 32-year-old woman from Wilmington stole $50 worth of jewelry from the Walmart in East Marlborough Township on the evening of April 13. The report said the same woman stole other items from the same store earlier that same day.
• Timothy Robert Hershey, 37, of West Nottingham, was arrested for strangulation, aggravated assault and other charges following an April 13 incident on Somerset Drive in East Marlborough Township, police said.
See Contributors Page http://chaddsfordlive.com/writers/
Comments
comments